The "Legend" Continues
1998 National Specialty Champion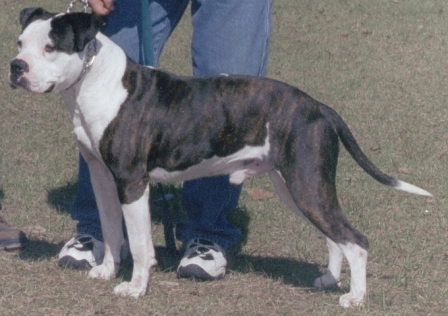 Joshua's Sand Valley Sam A.K.A. "Cowboy" UCD III, the first OFA "Excellent" (AMB28E39M-T) male Bulldog in the world. The "Cowboy strain" of American bulldog is a complete outcross to the contemporary modern American Bulldog. Contemporary meaning, strains of Bulldogs made popular in the past 30 years by breeders such as Alan Scott, John D. Johnson, Williamson, Painter, Tate, etc.

The "Cowboy strain" is the popular choice of many breeders in America and abroad to widen the American Bulldog gene pool. "Cowboy" winner at the 1998 National Specialty Show as well as an UCD III  Titled Bulldog was truly a remarkable animal.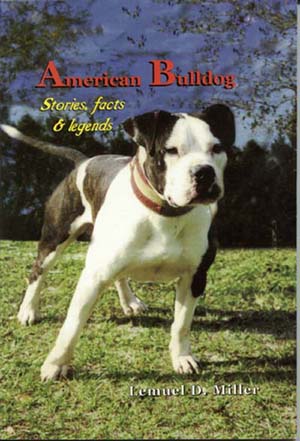 I've watched this Bulldog knock a 200lb. wild boar off his feet and drag him 20 yards before I could stop him. Cowboy, a real Ol' Time Bulldog, literally caught over 100 wild hogs and never considered giving up on any bad boar. I could then take Cowboy squirrel hunting, tell him to look for'em and he'd look up every tree sniff every trunk and if there was a squirrel around he'd find him. Then if you needed a trail dog for a wounded deer come get Cowboy. Not only would he trail but if the deer tried to jump and run Ol' Cowboy would catch him.

Another aspect that we are extremely proud of, Cowboy has produced many generations of certified hips and for many years was the only OFA Excellent bulldog to produce an Excellent. Now at Joshua Kennels...because of Cowboy we have generations of OFA Excellent bulldogs but, more importantly, generations of ol' fashioned Bulldogs that are willing to do modern day work, such as, show conformation, home protection, Shutzhund, Ring sport, weight pulling etc. 
December 24, 1999, while I and my family were out for dinner, someone came on our property and poisoned Cowboy with anti-freeze. I buried Cowboy Christmas morning. 

National Champion 
Joshua's Sand Valley Sam aka "Cowboy"

See Cowboy in Action
"Cowboy" & "Caleb" catching Monster Wild Boar
Joshua Bulldogs working together, not only together but nose to nose.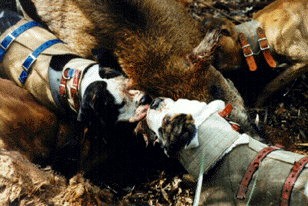 Cowboy is featured in the book
"American Bulldogs Stories, Facts and Legends"
Purchase the book at "The Bulldog Store"
 Cowboy & daughter Rachel 1994


Lem Miller's favorite picture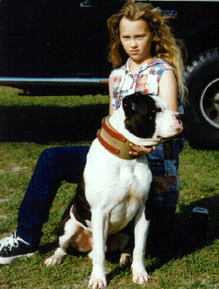 The Legendary "Cowboy"

I don't understand things like this however, God then blessed us with an outstanding son of Cowboy, "Nat'l CH. Joshua's Ol' Southern White" aka Josh and "The "Legend Continues."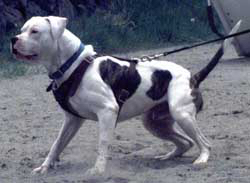 National Champion - Joshua's Ol' Southern White
aka "Josh"OFA Excellent, SchH BH, UCDIII

Josh gave us many years of love and loyalty and became the best all-around bulldog I've ever had or seen. He like his sire, love to work and was an outstanding catch dog. Josh weighed 93 lbs but was much larger on the inside than he was on the out. He was a true producer of the Ol' Southern White  "type" having been sired by "Cowboy" and the best producing Ol' Southern White ever, Joshua's Shunammite aka "Baby." Josh's legacy is world wide having sired pups, grand pups, great grands, you get the picture, in countries such as Russia, New Zealnd, Australia, England, France, Germany, Sweden, etc. etc..

JOSH PASSED TUESDAY FEBRUARY 5TH, 2008 GIVING MANY GREAT YEARS!!!
HE HAD NEVER BEEN SICK A DAY IN HIS LIFE...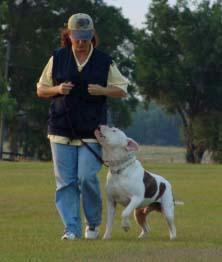 3 DIFFERENT VETS COULD FIND NOTHING WRONG...
JOSH, SIMPLY DECIDED HE WAS READY TO GO HUNT GOLDEN "WILD BOAR" WITH SAPPHIRE EYES IN THE HEAVENLY SWAMPS OF THE HEREAFTER.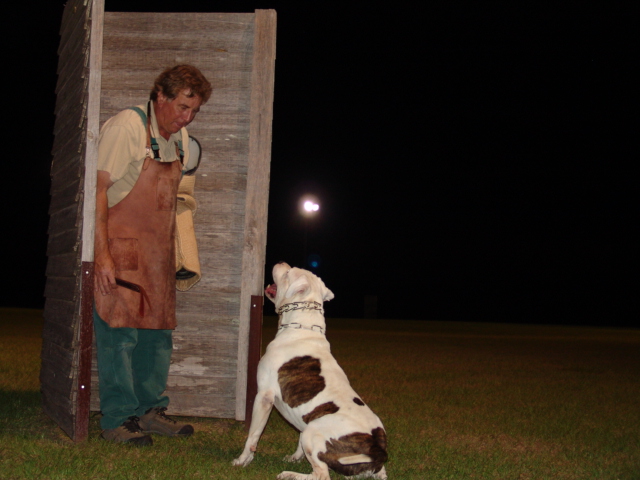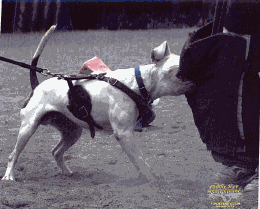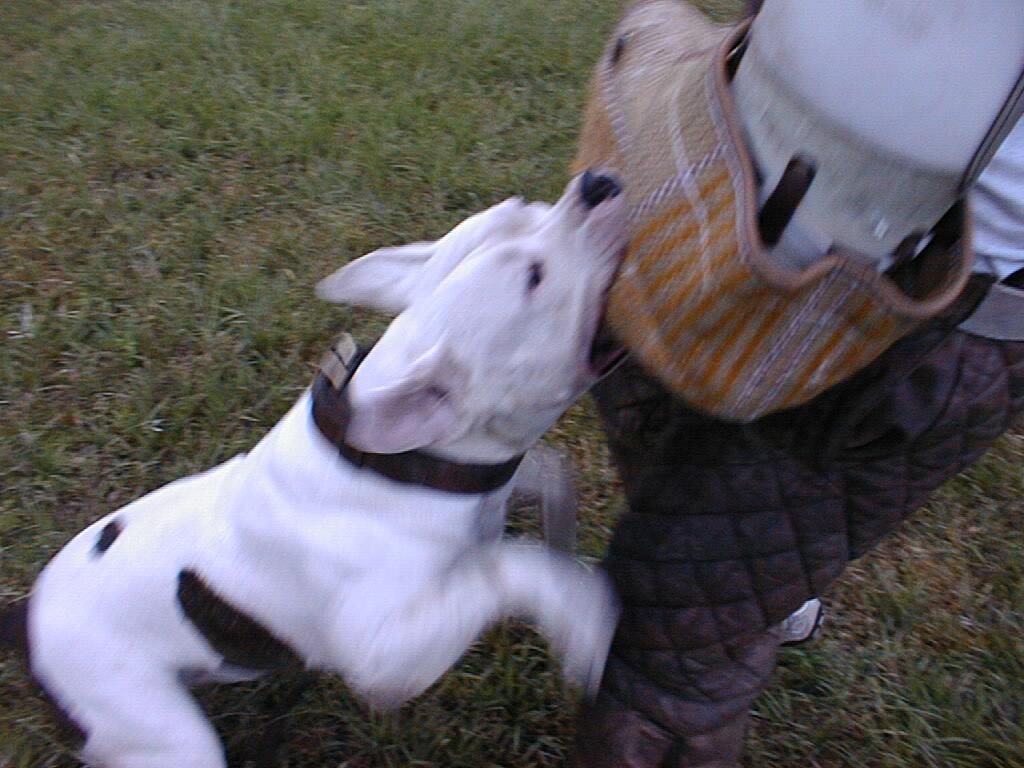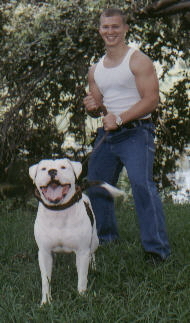 HE ALLOWED ME TO BE THERE TO SAY GOODBYE!!!
I LOOKED HIM IN THE EYES AND TOLD'IM;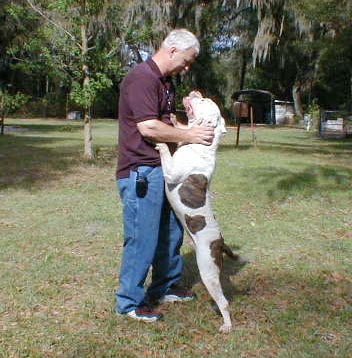 "I LOVE YA, OL' BUDDY"
HE LOOKED DEEP INTO MY EYES...THEN HE WAS GONE!!!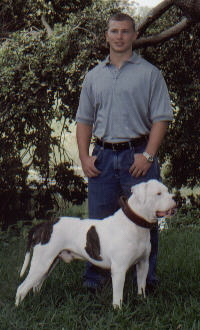 Psalm 30:11-12 Thou hast turned for me my mourning into dancing: thou hast put off my sackcloth, and girded me with gladness; To the end that my glory may sing praise to thee, and not be silent. O LORD my God, I will give thanks unto thee for ever.
THANKS JOSH,
YOU'VE GIVEN US A LOT TO LIVE UP TO...HOWEVER, "THE LEGEND CONTINUES."
National Champion Joshua's Isaac
 
Isaac (100 lbs)
Isaac is an outstanding son of

Champion Joshua's White Bandits Love and Joshua's Bailey, who both are line bred from the lines of Josh and Cowboy with Baily being a direct son of Josh and Baby Love, a grand daughter.

 
At the 2013 NKC National Speacialty Championship, Isaac won everything there was to win and became National Champion. Isaac has beautiful conformation, structure, temperament and the stuff that made the bulldog breed famous. One of the most important traits about Isaac is, he is a true producing sire. Meaning he constantly reproduces himself which indeed is rare with bulldog sires. The broods are normally dominant in the traits of the pups, as she is normally 70-80% of the breeding procss. So, when you find a true producing male like Isaac, you have been truly blessed by God Himself. As you can see, "The Legend Continues!"
At the National Championship, Isaac received 2 Best in Show Wins plus winning the Nationals against the Top 10 American Bulldogs and all the Best in Class Winners. Click to see (pedigree)