Satisfied Clients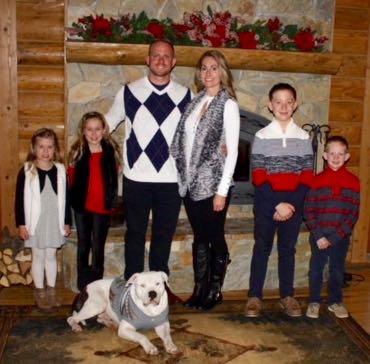 Brent Bathurst family and Joshua's Abel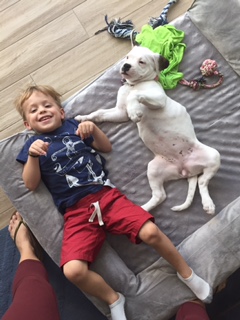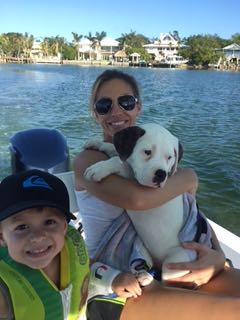 Trina is a happy member of the Hinckley family.

She is doing great 

and we love her.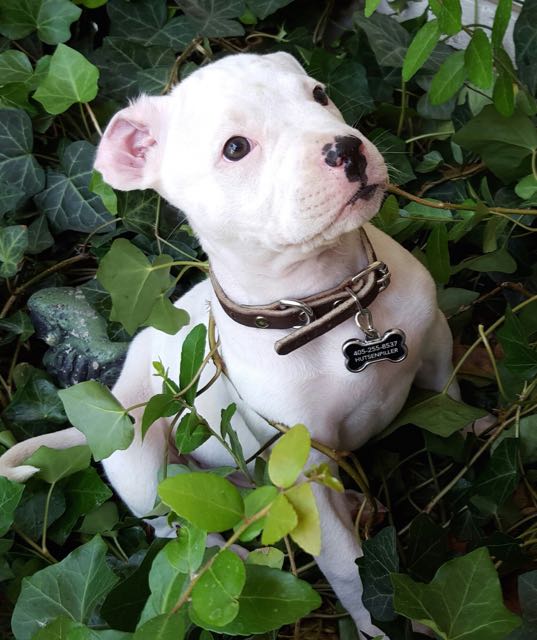 This little pup found and dug up 7 cow and pig ears that our
Cairn Terrier buried in the backyard!  Maybe I should do
search and rescue... lol!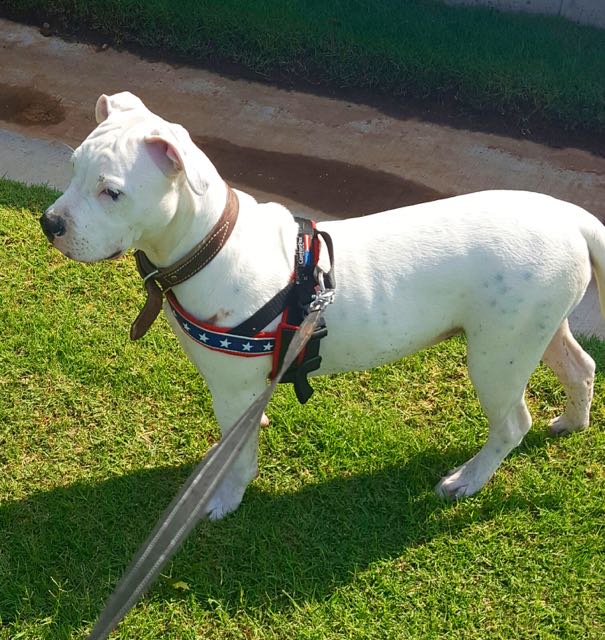 Update on our female pup Uta.  We are so impressed with
the temperment of your dogs!  For being barely 5
months she is confident, kind, and respectful.  Thanks
again, and can't wait to get a pup for my husband soon.
Joy Hutsenpiller/Oklahoma City, OK.
********************************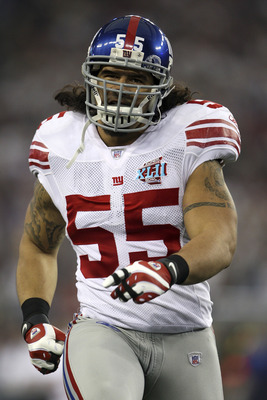 Super Bowl Champion...Kawika Mitchell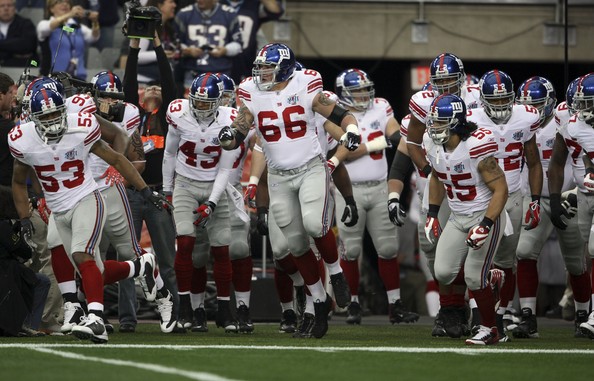 Kawika Mitchell #55 of the New York Giants lead teammates on to the field for warmups against the New England Patriots during
NFL Great, Kawika Mitchell and Family with their 3rd Joshua Bulldog. The Mitchell family have had Joshua Bulldogs since 2003, and as you can see they love their newest addition, Thumper Rascal Mitchell. pictured is; Eliza with Thumper, Billie, Kawika and Lewai 
********************************
Amanda Sebastian with her new Joshua Bulldog..."Gus"
My husband Google searched and searched for weeks, with a specific look in mind, on tons of different American bulldog breeding sites. Though at the time, Gus was a "surprise", he later told me Joshua Kennels has the best look bulldogs he had seen during his search. Since I have had Gus, I ask my husband constantly "How is he the cutest puppy I have ever seen?". I should know cute puppies, we have had 3 in the last 3 years and Gus just keeps stealing your heart! I had little knowledge on what great a pedigree truely produces, but my husband, who has had (pit bull dogs his whole life) appreciates, understands and wholeheartedly respects the breed. Gus has lived up to (in 6 short months) his reputation, and all of Joshua Kennels dedication to the American bulldog breed. Gus loves the water and baths (there is a difference), loves to cuddle, riding, playing with his 3 big sissies and learning his manners! We will forever purchase our future American bulldogs from Lem, thank you!   
********************************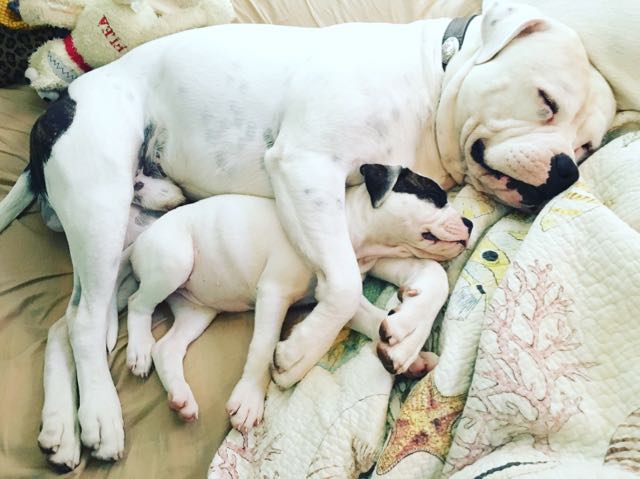 Good Afternoon Lem, 
> Luna is fitting in great and our Male AB Kawliga we bought from you a few years ago is in heaven with her, running around the yard and playing is their favorite thing to do! I wanted to ask about her feeding schedule. The food we purchased (Purina Puppy Chow) said to feed her 3 times a day at 2/3 a cup per feeding. I have been including the quarter teaspoon for the dry powder each feeding, but wanted to get exactly what you believe is best. So my main questions are how many times per day? How much? & should I include the quarter teaspoon of dry powder each feeding? 
Thank You So Much!
We are so in love with them! 
Jessica Spetla
********************************
Amanda Sebastian's Joshua Bulldog "Gus"
********************************
Atheletic Bulldogs that Swim like Labradors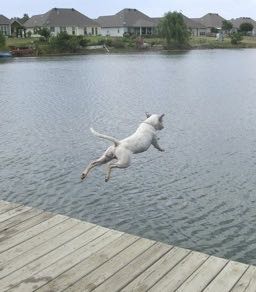 ********************************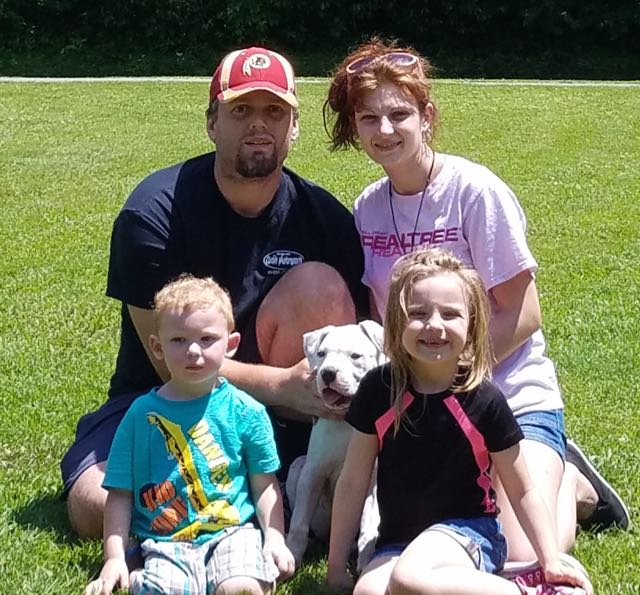 Phillip Johnson & Family with their Joshua's Isaiah/Joshua's Adah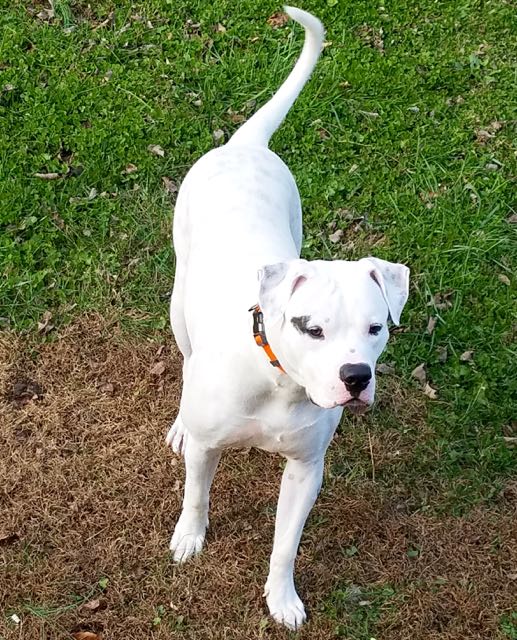 Bam is growing up nicely!
********************************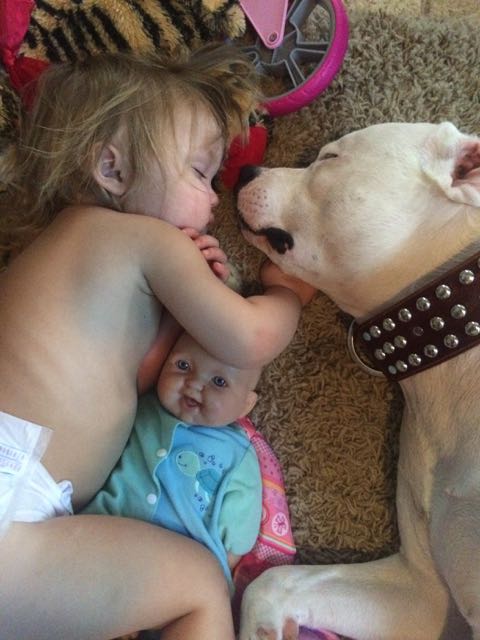 These pictures were taken of Cisco at 8 months and 78 lbs. He is doing great and is a fine animal.
********************************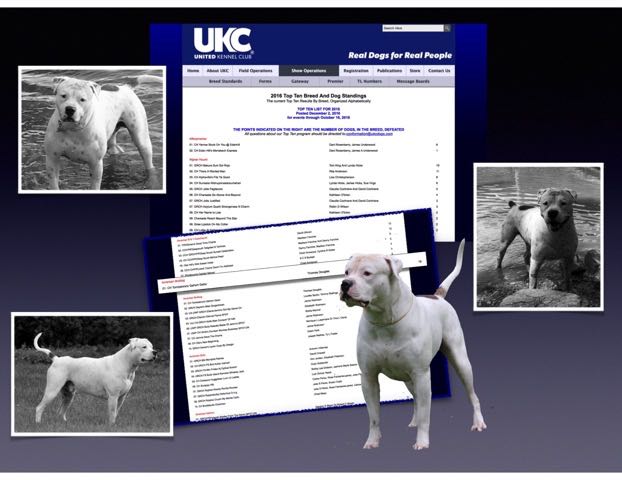 Happy new year Lem,
Thanks again for such a great dog.  
2016  UKC #1 & NKC #6 American Bulldog.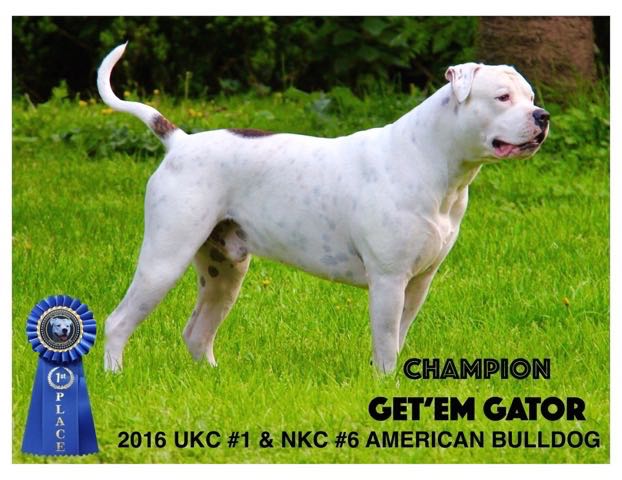 ********************************
Lem, I figured I'd send you some pics of Odin and my daughter, Madison. My 2 favorite things! He is absolutely awesome with her. Gentle and patient and somehow seems to know that this tiny human is fragile and only a quarter of his weight. It's hard to believe he's going to be 8 soon. It seems like yesterday I picked up a 14 pound puppy and now he's right about 100 pounds of muscle and awesomeness! Thanks for setting me up with the best dog in the world.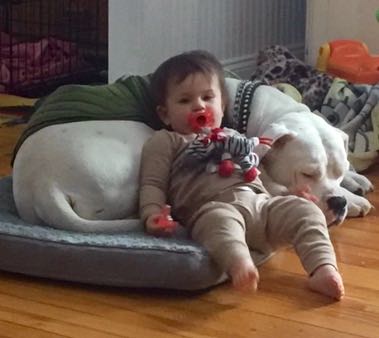 ********************************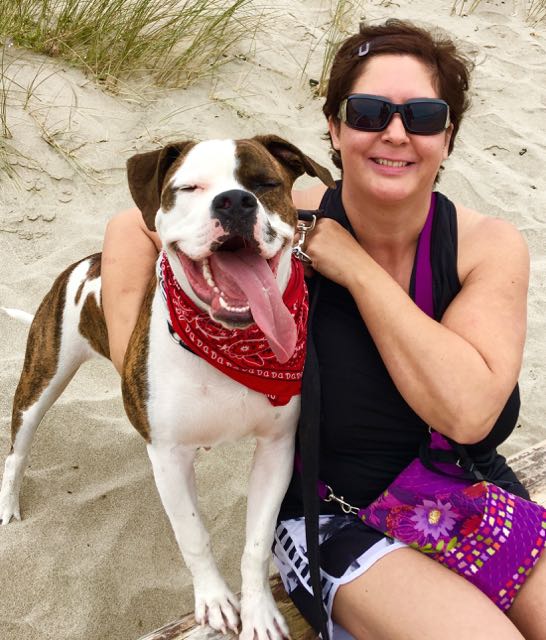 Here are some pics of Jasper, 7 months old. Thank you for such a great dog, he's better than we could have ever imagined! Loves the water, other dogs and has plenty of natural prey drive...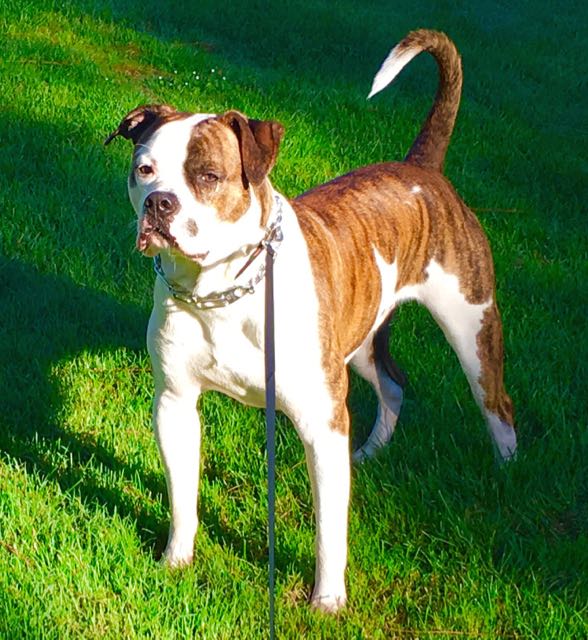 Blessing,
John & Gloria Cordova
Gilroy CA
********************************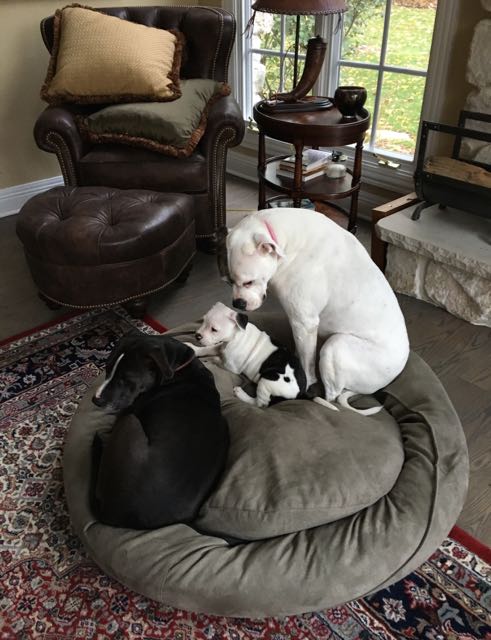 Dear Lem,
We all love our puppy!  We have named her Edith/Edie. She is fitting in with Greta our American bull dog and Bogey our pit mix very nicely.   She is very playful and cuddly! She has also been very good in her crate at bedtime. 
Thank you so much for this wonderful little dog.   We will keep you updated!  She is a blessing!
Doree and Jim Hoselton
********************************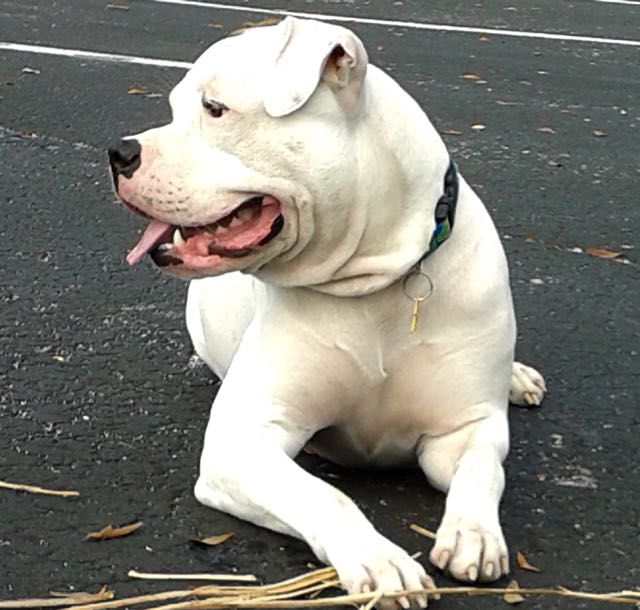 Tredegar...(out of Nat'l CH. Joshua's Isaac and Jazz)
Hey Lem,
  I wanted to give you an update on my boy, Tredegar. He's been one of the best dogs I've ever had the pleasure of owning!! He's so smart, handsome, kind, outgoing, funny, fun and SWEET. He is a total ham and has NO idea that some people find him intimidating...pet me, pet me, pet me! He considers the entire St Petersburg police dept including both horses in the mounted unit, Brooklyn & Jacob, to be his personal friends. He gets so excited when he sees them, it's hysterical. There is nothing like seeing a bulldog kissing a police horse, lol. All that being said, he is an excellent watch dog and doesn't miss anything out of place around my home or parents and friend's homes when we travel. I just can't say enough about him, and how over the top pleased I am with him!!!                                Thank you,
Melissa Bennett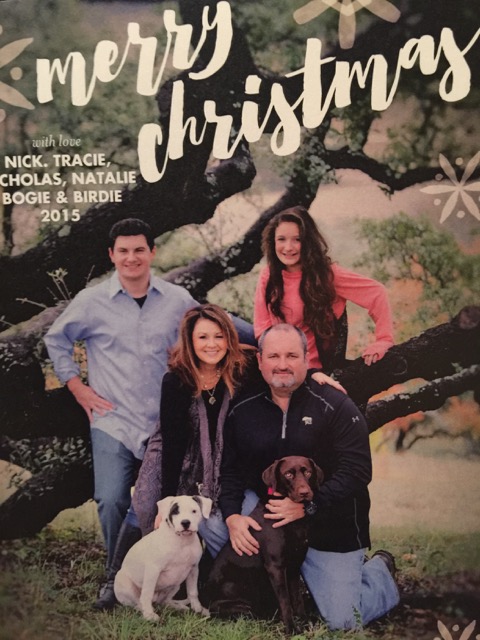 Hi there. Just wanted to send you an updated picture of our Bogie. She fits in well.  We just love her. She's 5 months old now.  We believe a little piece of Gigi is with us.
Yes you may put our picture on your website. That's an honor. Thank you.  We tell people all the time that American Bulldogs are the best dogs ever. They really are.  My whole family thinks so as well. Nick and my dad were just looking at your website yesterday. We all love them.

Hugs
Tracie DiVirgilio. 

 😊



********************************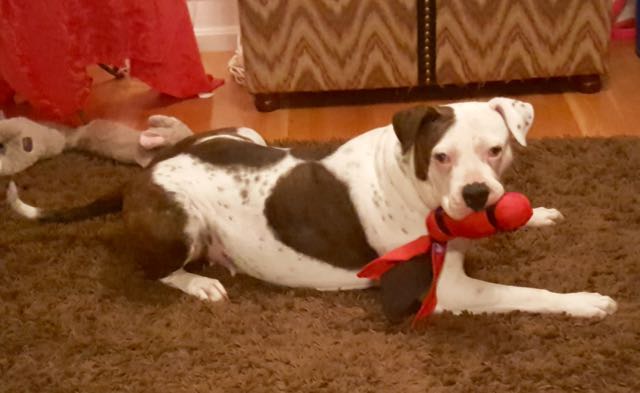 Coco is 4 today. Best dog ever!! I just want to say thank you again for the quality of animal you breed. I own an Outpatient Physical Therapy office and Coco comes to work everyday with me. Patients comment everyday on what a great dog she is, she is calm and mellow throughout the clinic playing Mayor with all of the patients, UNTIL, i grab her tug toy. My patients are amazed at how quickly she ramps up! She is an amazing mix of calm and mellow when needed but energetic and playful when the time permits. Again, Amazing Dog!
********************************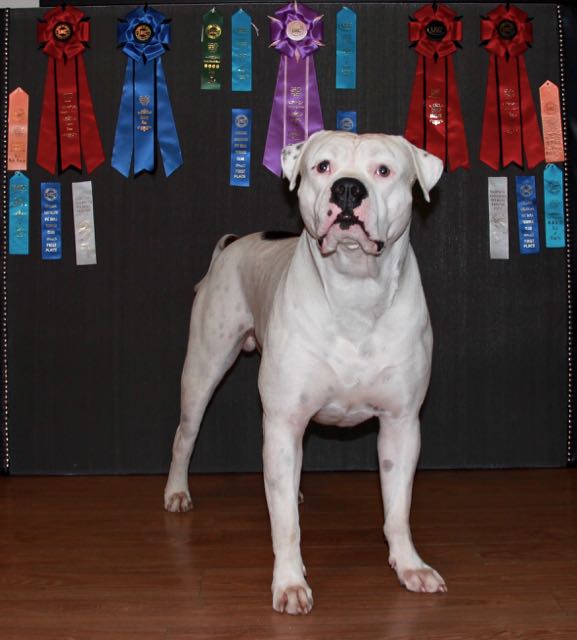 "Gator"

Dear Lem,

 Thank you for such a wonderful bulldog. He is amazing. He impresses me all the time, he swims, he fetches 2 balls at once, he guards and protects, and he has such a gentle, well mannered disposition.
  We went to our first show this past weekend and he did so well. He is exactly what I wanted in a dog.

Thank you so much
Jennifer Smith

First Place
Best Male
Best of Breed
3 second group wins
A first place blue ribbon

and best of all a
Reserve in Best in Show (Multi-breed show).

In one weekend of showing Gator is now a UKC Champion.
***********************************************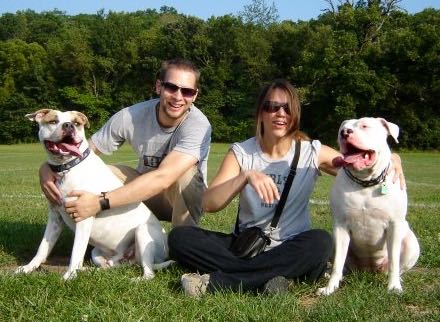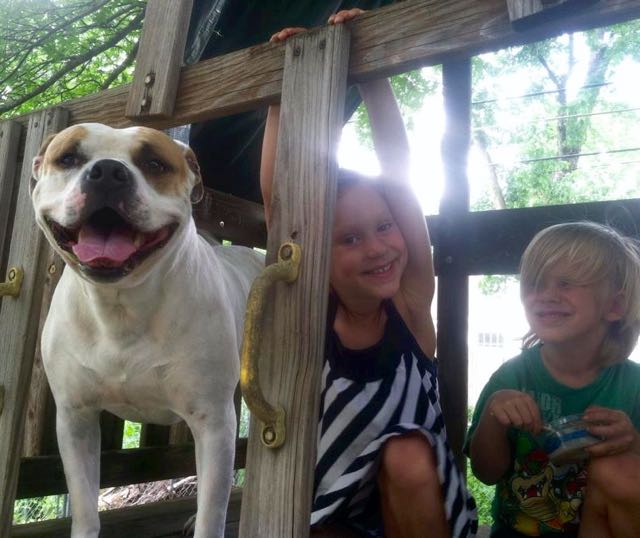 Taussig family & Joshua Bulldogs Doc & Luna!
***********************************************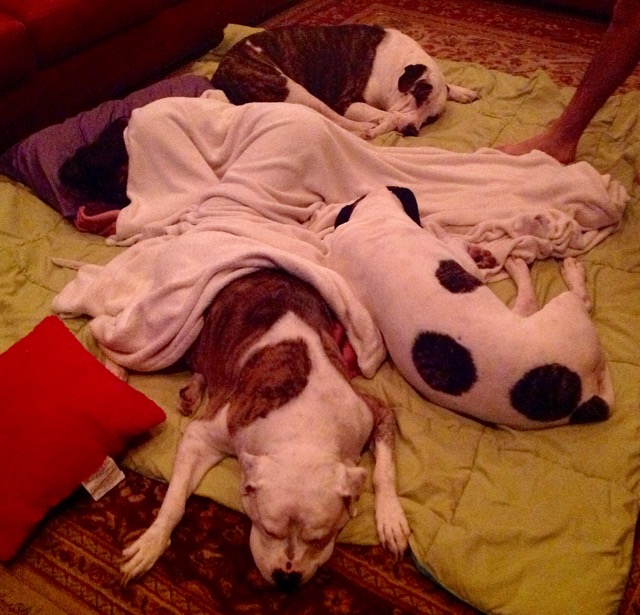 Here is picture of our dogs (all Joshua Bulldogs) sleeping around my daughter.  Babe, who passed to heaven in June, is the red brindle one in the front.  She had a long full life. Her parents were Joshua's Belle and Nat'l CH. Joshua's Ol' Southern White aka "Josh." Our family was blessed with her in so many ways.

We're looking forward to having another great female as part of our family.
All the best,
Cyro Stone
********************************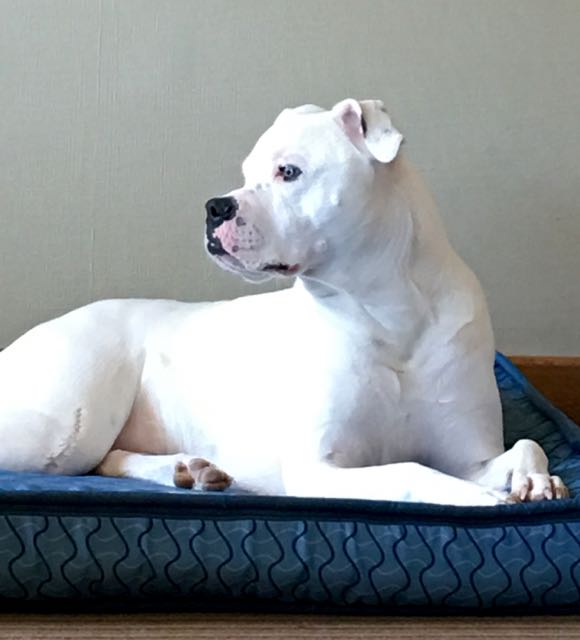 Pat Leech families beautiful Joshua Bulldog
She is a daughter of National CH. Joshua's Isaac 
and Joshua's Addison Rose
********************************
We first met back in 1998 when Ii was looking for my first American Bulldog. A lot of research into the different  types (standard v Johnson, etc.) and the attributes of each led me to your breeding program. At the time you had bred Tabatha to Joab and I purchased the pick male, a red and white beautiful male I named "Jed". Attached is a pic of Jed at about 1 year — a beautiful head, extremely athletic and an even better temperament. 

You were always responsive to training and health questions and two of my close friends purchased bulldogs from you shortly thereafter. All of the bulldogs had wonderful temperaments and old southern white great looks. 





After Jed's passing, I called looking for a female puppy. You showed me and my daughter a pick female out of Jabez and Lady Red Warrior the pup... "Molly" won us over in the first 30 seconds with her outgoing disposition and beautiful structure. Molly is little over 2 yrs old now and about 82 lbs of muscle and affection. 

She is wonderful with my daughter and her friends and pampered all day by my wife. Molly is very protective of our house and yard but accepting of strangers after proper introduction. She is good with other dogs including our old pug, our neighbor's energetic australian shepherd and any non-dominant large dog. 



Having owned Joshua Kennels bulldogs for over 18 years now, I can say that these dogs are extremely loving, protective, loyal, intelligent and athletic. They have an amazing ability to use their intensity in chasing a frisbee or getting rowdy in a play session and then instantly flip a switch and collapse on your lap like a small lap dog. They are happiest being as close to their "human" as possible. They make a wonderful family pet with only a reasonable amount of early training. 





She looks like a slightly scaled down version of Jabez. Amazing how similar her head is to Sandman the Great of 40 yrs ago in your Bulldog book — a testament to your breeding program.





Thank you Lem for producing such wonderful bulldogs!  





Regards,





Mike Mandeville                   




********************************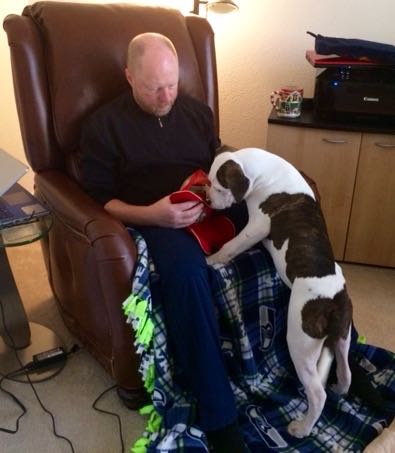 Just wanted to send you some pictures of Takoda that we took today.  He is growing like a weed!  We figure he's getting close to about 45lbs at this point.  He is happy and healthy and his sweet personality is really starting to come out.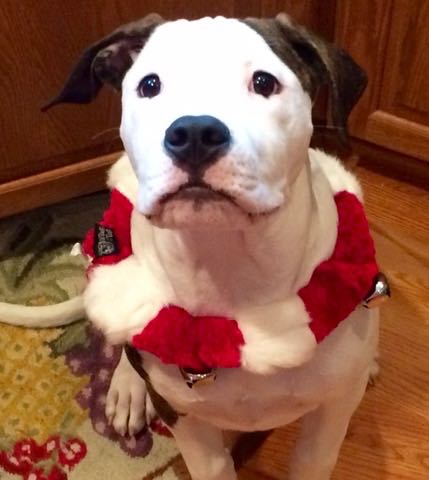 ********************************
Colt is doing awesome, he is true to the breed already, very smart and loyal. With all the dogs I have had, I must say Colt is by far the easiest to train and has an outstanding temperament. Anyone that is fortunate enough  to get one of your pups will not be disappointed!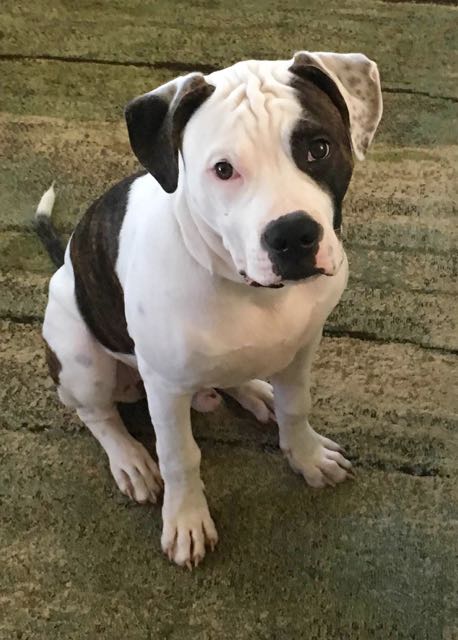 "Colt" out of Tank/Addison
Attached is a picture, he is already over 50 pounds at 5 months.
Thanks for the opportunity to enjoy such a wonderful specimen.
********************************
Walking the Baby!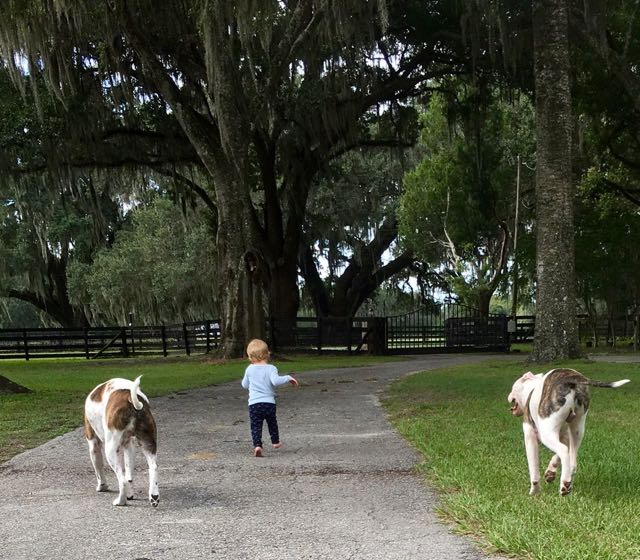 Chance is doing great! Believe it or not he is already 90 pounds! We cannot believe how fast he is growing! He's almost bigger than our 4 year old American Bulldog. He is still a lovebug! He doesn't realize his size! He still thinks he's a small puppy and will climb on your lap!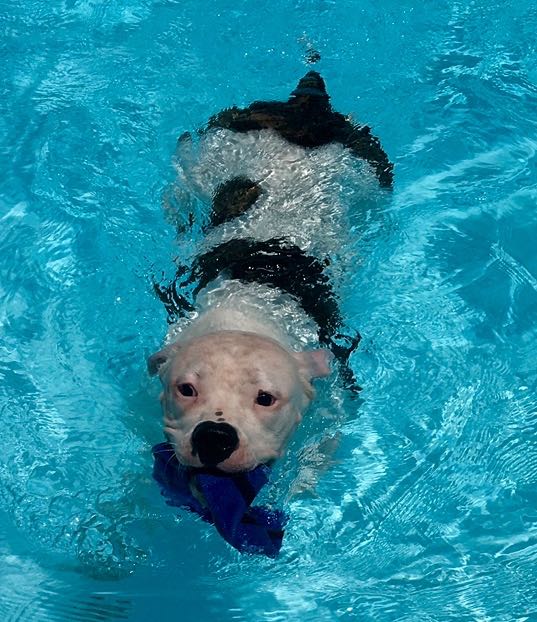 He loves to swim, and goes in on his own. We love him & can't wait to see how big he's going to get. 
Josephine Walker Family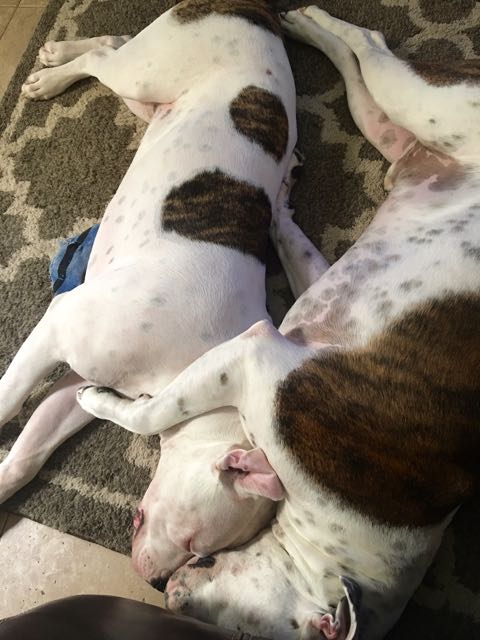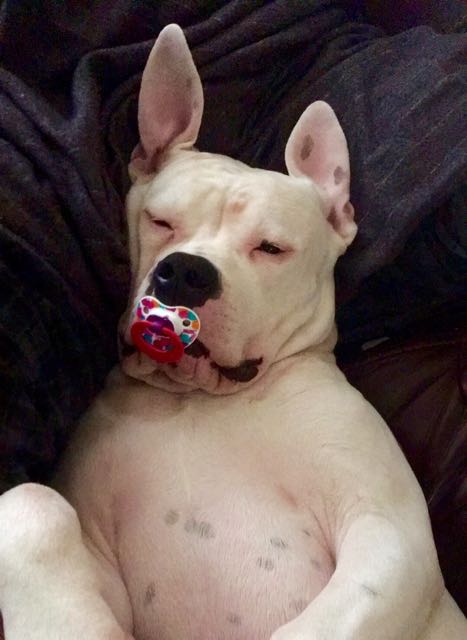 As you can see, he's a big baby. LOL!
********************************
Hi Lem,
I hope you are doing well.
I just wanted to share a picture with you of our pup, Mr. Bojangles.  
He just turned 9 months old in this picture, and wow, what a specimen.  My family and I couldn't be happier with our decision to get him from Joshua Kennels.  He is all bulldog for sure, and loving.   He is out of Joshua's Malachi of Laura and Joshua's Leah.
Anyhow, I just wanted to send you a  picture to attest to the true strain of bulldogs you guys produce.
One last question......how hard would it be to introduce a female pup to our family?  
Enjoy and God Bless!
Jason Ferraro
********************************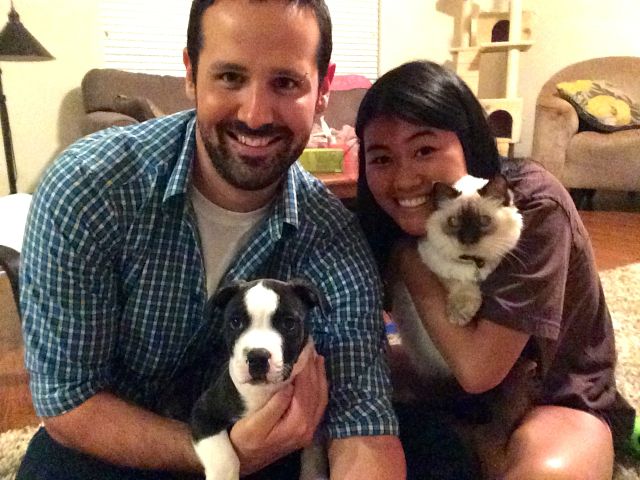 Daniel & Dorthy Chow with Qubit
Hi Lem,
Just wanted to let you know things are going well, and Qubit is learning quickly.  He greets people and other dogs very nicely, and is responding to commands.  He is not very treat-motivated, but prefers a quick pat on the head and a "good pup" to reinforce good behaviour.
I do have to mention, he is an extremely confident pup at 10 weeks.  He is very friendly to other dogs, until they challenge or try to bully him.  He will not cower or run away, nor will he attack, but he will sit there very firmly and calm, and will not hesitate to defend himself if provoked.  We are looking for other properly socialized dogs to play with him, but sometimes we come across some puppies who are still learning their manners. It is interesting to see other owners trying to handle their rambunctious puppies, while Qubit will sit next to my feet and wait for directions. He is already welcome at every pup boutique, home hardware, and outdoor shopping malls as we take him to get socialized.  All the ladies love him. He definitely has good breeding/temperament in him.
Dorothy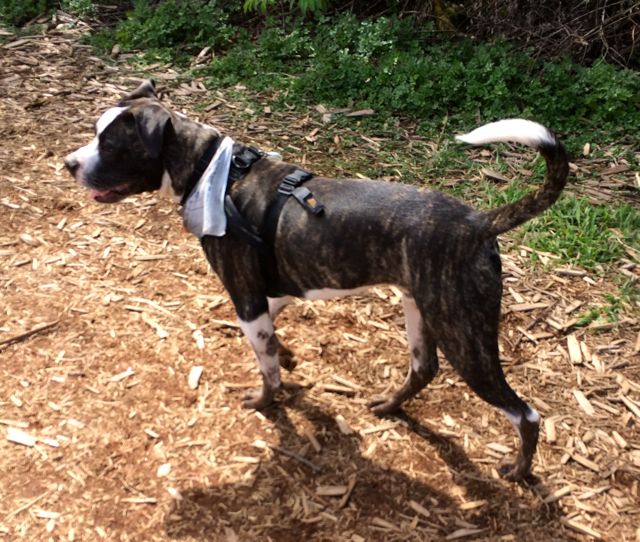 Hi Lem,
I can't say enough good things about the dogs you breed. We have received so many compliments from trainers about how smart he is, and how quickly he learns- not to mention his handsome looks! We have done a lot of socialization with other dogs, but not kids (we don't have/know anyone). The amazing thing is he naturally loves kids, and when he sees them at the park he becomes very gentle and soft, and gives them kisses. I can only say that has something to do with his temperament and breeding.
We were told bulldogs were dumb dogs, but we've proved a lot of people wrong.
Take care,
Dorothy
********************************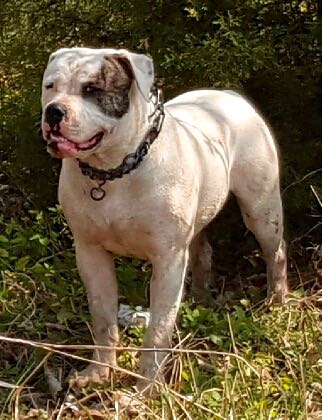 I will get some better pics of Victor to you.  He is about 100 lbs and completed beginning and novice obedience.  Amazing bulldog!
********************************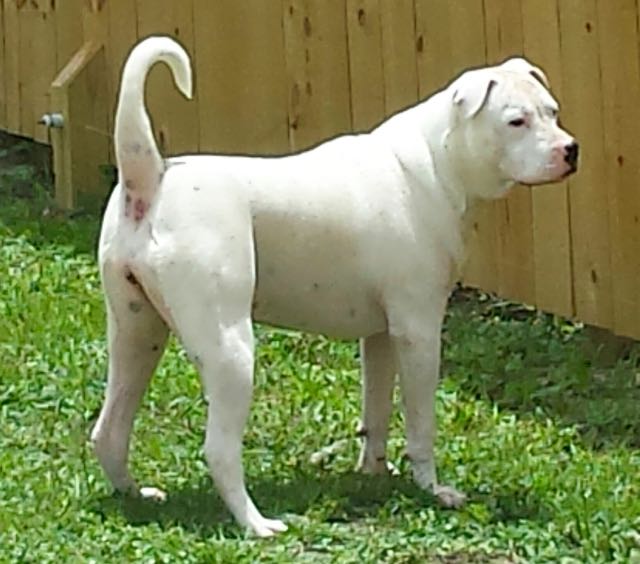 Hey Lem...just wanted to send you a couple of shots of Peaches...she is 80 lbs. on the dot at 10 months old today...she is truely the finest dog I've ever owned...sooo smart...and is fearless....John Mckee
*********************************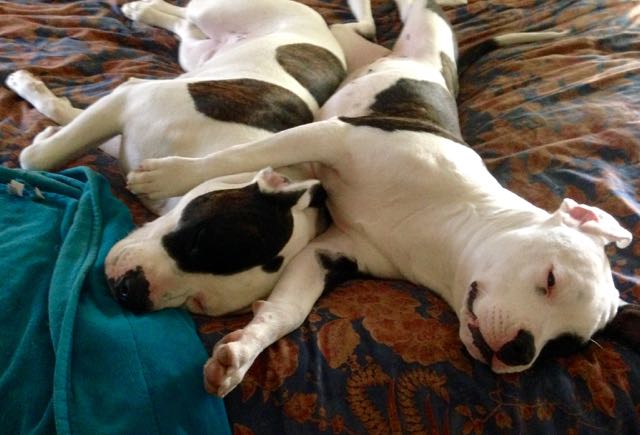 I wanted to thank you for such an awesome pup! Genesis really keeps Edge on his toes! She has so much drive, she's relentless!! He really has been teaching her from day one. Now that she's bigger he holds her accountable. They are so fun! Thank you, I just wanted to share how much she has grown! She has not experienced any growing pains, apparently the PREVENTION PLUS TM is doing the job.
Take care , Gretchen Argento
********************************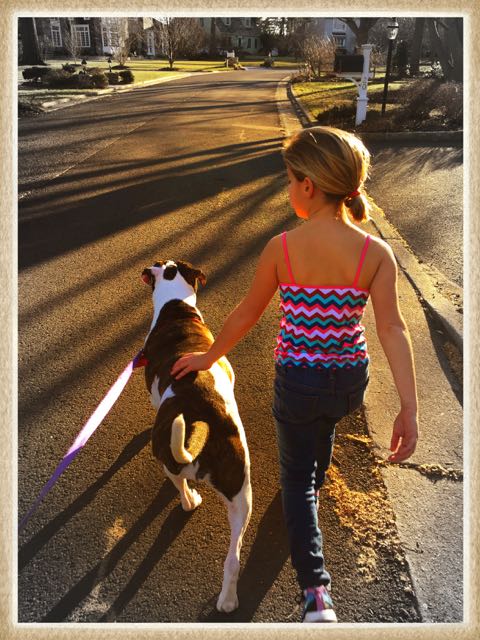 Cohen Family Joshua Bulldog "Bella" going for a walk.
********************************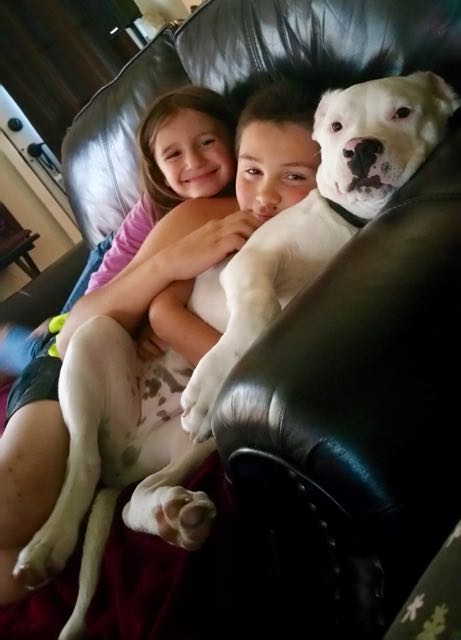 The 3 Musketeers...Bart and the kids!
Thanks for such a wonderful puppy!
Kathi Lankford and Family
********************************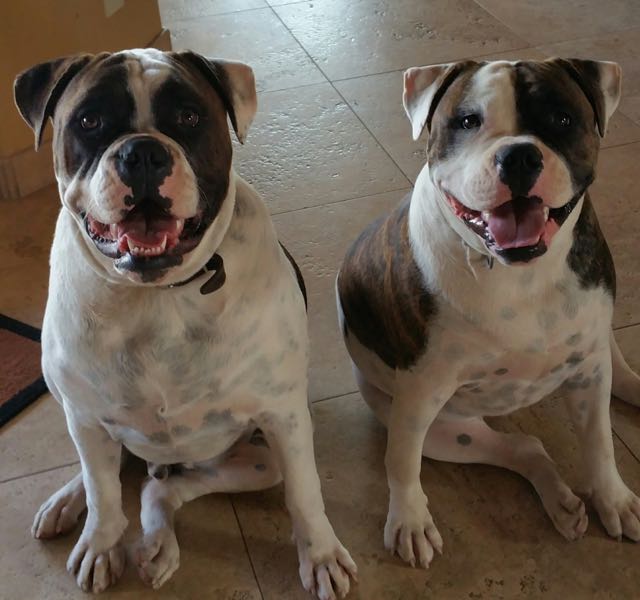 Hope you are well.  Titus and Apollo are about to turn one year's old and they both turned out to be amazing dogs.  They are very kind and loving towards the children.  I take them for a walk everyday without a leash which I could never do with any other dog I owned. They are so smart.  Thank you for working with us. 
Best dogs, by far, we have ever had and we love them very much.
Take care and God bless...
********************************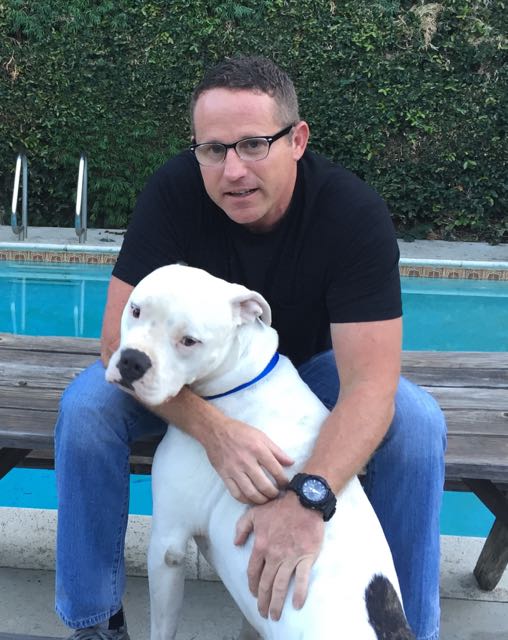 "Bo" with Dave Cassles who says he's the best dog he's ever had.
Bo, gets along great 
with 
the other pets in the home (cat, Boston
Terrier, Labrodoodle) 
and as you can see, he is a beautiful
Joshua Bulldog. Bo, is out 
of 
Isaac/Addison breeding.
********************************
Tammy Matteson's Joshua Bulldog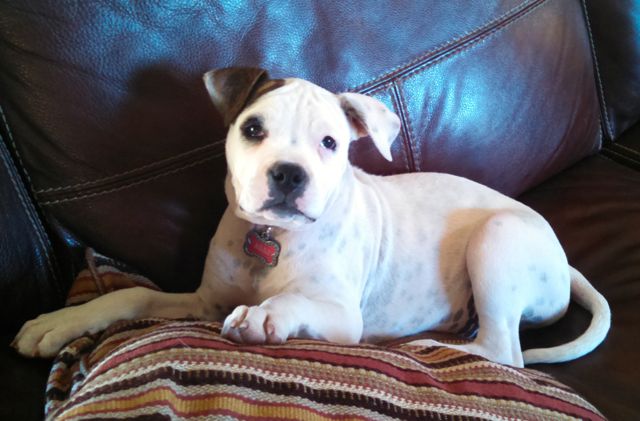 Alli seems to love it here.  She has the two German Shorthairs to play with and my son shoots a lot of birds for the two German Shorthairs and Alli gets right in there also to fetch the birds, and loves the sound of the gun. I'm really glad she's not afraid of the gun, as our family target shoots a lot right here on our property.
I can't wait to take her to the lake and do all the things we like to do.  We took her camping up North for a weekend of riding the side by sides and she loved that.  She's willing to do anything as long as she gets to go and I'm willing to take her as long as she like's it so, we're a match.
Thank you so much, for giving us such a great experience with shipping our puppy, because we were not to sure about shipping. And thanks for all your help, and allowing us to purchase one of your beautiful dogs.
I will keep you updated on Alli.
* * * * * * * * * * * * * * *
Hi Lem,
Yes, we still have Gunnar Girl out of Isaac/Addison.  She's a great dog - smart, sweet disposition and great with the kids.  
We also still have Savannah from Josh/Sheba  Girl!  She will be 13 in October 2016!   She's showing her age but she still has great hips.  She occasionally will get to running in the yard and she still looks so long and graceful.  Here's a pic of her with Gunnar.  
Thanks Gregory Dull Family
* * * * * * * * * * * * * * *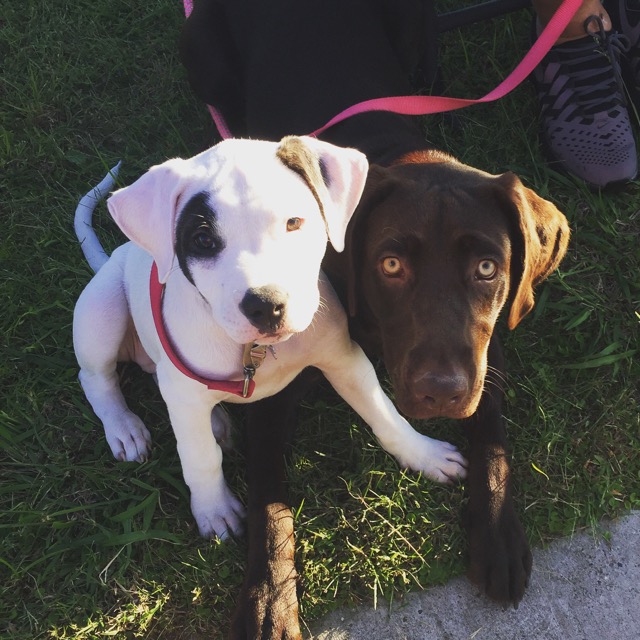 Hi there Lem. Just wanted to send you a recent picture of our Bogie & Birdie. They are super happy together. I truly feel we have a little piece of our Gigi back. Birdie is just about 8 months and Bogie (our Joshua Bulldog) is 3 months now. She's such a sweetie.  
Thank you
Tracie DiVirgilio
* * * * * * * * * * * * * * *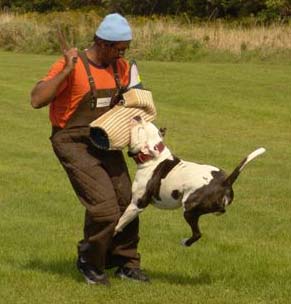 Long time client Lisa Quinn's "Louie"
son of Joshua's Ol' Southern White aka "Josh"



* * * * * * * * * * * * * * *




We love the dogs.  They are so well behaved and very smart. Have potty trained them already in just two days.
Fran



* * * * * * * * * * * * * * *



Thought I would let you guys know Little Miss took home two best female , one reserve and 3 first places at our show on the weekend. The judges said she was a beautiful example of a standard dog. She was also the best behaved dog and very stable tempered despite close to 70 dogs. I am very proud of her!
Thanks,
Melissa
* * * * * * * * * * * * * * * * *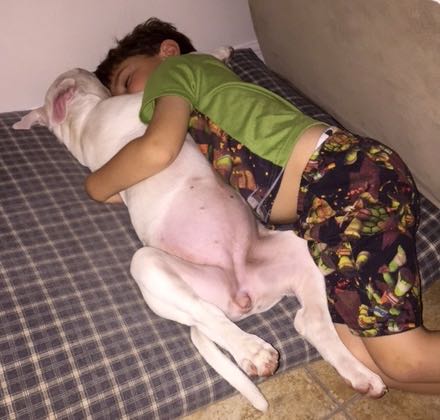 My oldest laid down with her and fell asleep with her 
while 
he was petting her stomach. She loves to lay with them.
* * * * * * * * * * * * * * *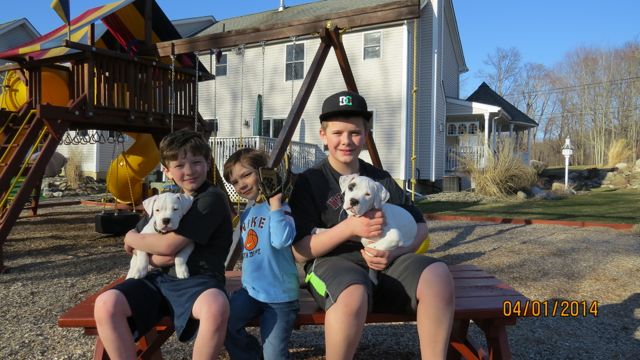 Juers Family with their Joshua Bulldogs
Dear Mr. Miller, 
I very rarely right reviews or endorsements, but really felt the need to in this case. Too often in life do we only hear from others when something "goes wrong", in this case, however, something went very "Right" and I wanted to let you know. We had naturally expected a pair of good puppies, but instead we were overwhelmed with joy to say the least. These puppies were far beyond our expectations and are outstanding dogs! "Rocco" and "Bella" are absolutely beautiful, energetic and happy. I have 3 children and they are great with them! Health-wise they were perfect and we love their fantastic personalities.
Thanks so much for supplying us with these wonderful "pups", a commitment not taken lightly. The payment and pick-up transactions went exceedingly smooth as well. We plan on letting you know how they progress. If you ever need us for a recommendation please let us know.
Take Care, and Thank you once again,
Danielle Juers
* * * * * * * * * * * * * * *
Hi Lem,   Just a note to let you know just how happy we have been with Kitty (from your Isaac / Naomi  breeding three years ago). She will stop a Mack truck if we ask her to but, she is also a stable and social dog. She earned her CGC title this past weekend and, when all 93 lbs of her jumps out of the truck, she draws a lot of attention and, most people snatch up the little dogs. Its been a nice experience to see everyone realize that such awesome dog can be such a nice dog too. We are looking forward to the next title !Thanks for a great dog, Chris &  Janet Femiani
* * * * * * * * * * * * * * *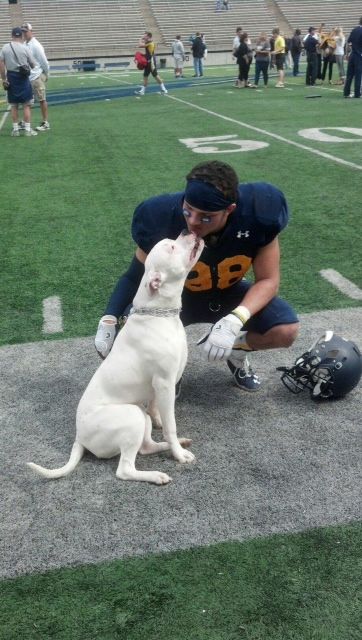 Hi Lem,hope all is well. It's Mindy and Zach, the coaches let me take Rocky to Zach's scrimmage for the whole game on his 1st b-day. It was fan day so, alot of autograph signing and Rocky loved it! We love him, he is the best dog, was great on the field w/kids, great everyday at my salon, the clients love him. He's such a love but, also a protector! Thanks again for such a beautiful pup!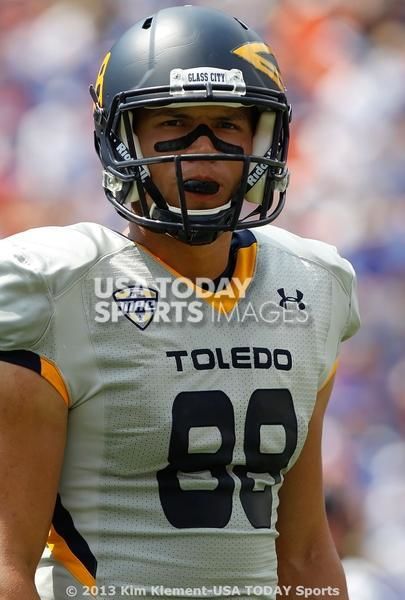 Zach Rogers 2014 Toledo Rockets Wide Receiver #88
* * * * * * * * * * * * * * *
Lexi is 9 months and 77 lbs of super athletic dog.  Great family Pet who is always on guard and very attentive and has been easy to train.  Thanks!
* * * * * * * * * * * * * * *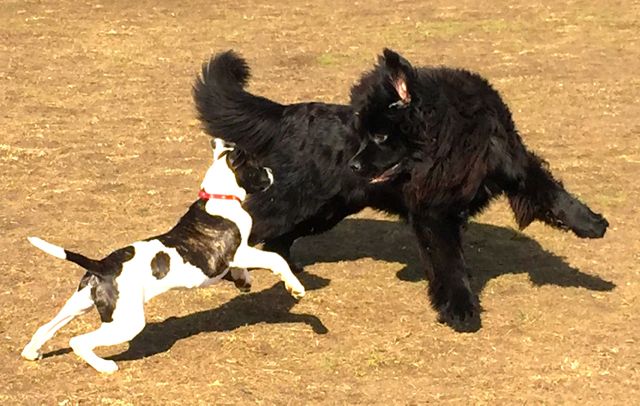 Bella pictured at 4 months and fearless
********************************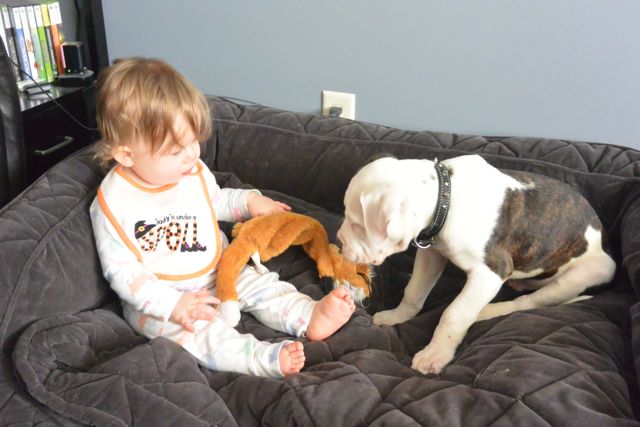 Our pup "Hawkeye" is doing great. He plays hard with our Rat Terrier but is so gentile with our little girl and two kitties.We couldn't be happier.  Just wanted to say thanks for everything and wish you the best!         
* * * * * * * * * * * * * * *
Dear Lem,
When we lost our best friend after 10 years and our family was devastated. We started searching online for breeders of American Bulldogs that had the same characteristics as our bulldog did. We found your website, called and immediately put down our deposit. After speaking with you and reading all the wonderful reviews, we knew we found our match. We are in love with Gunner and Dixie. They are solid, well balanced with great temperaments. We have a 3 year old child and they're all best friends. We can't wait to see our babies reach their full potential. Thank you for these amazing pups! We will continue to send updates!
Best Wishes,
Brandon & Sara Freitas 
Brentwood CA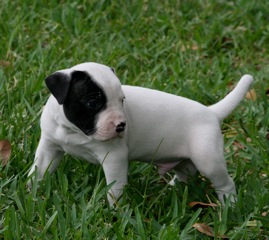 "Hoss"
Dear Lem, 
I just wanted to complement you, what a lovely puppy you have allowed me to own. I am over joyed with how gentle and obedient he is. He reminds me so much of my 1st puppy Karma from day one she caught on to everything almost instantly. I am happy to say he to is very qick to learn. He has actually wondered through the whole house, with me following close behind, to the back door to where their toilet area is located. That started yesterday. All the girls love him and he really likes my old jack Russell. My 5 year old step granddaughter was here and while she was holding him they both fell asleep. He was very good with her.
I whistle he comes. A quick hey and clap and he knows that is no. Great on off switch on him already. It is not often I receive a pup as well started as I send from my home but pleasantly Hoss is, (Jane is a breeder of Jack Russell Terriers)! Hoss is perfect and fits in nicely. Thank you so much for producing this fantastic little guy "my Hoss".
Your friend,
Jane
* * * * * * * * * * * * * * * *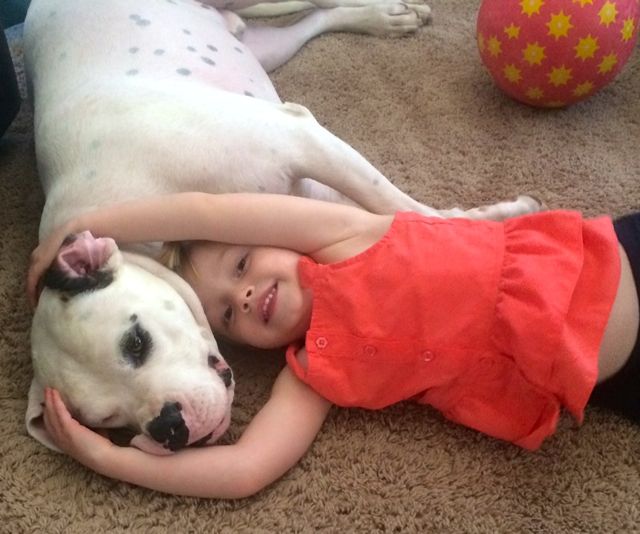 Awesome dog, nothing but compliments from everyone that sees him, very good with children and other dogs, very strong, easily trained (comes, heels, sits, stays, shakes, down, drop, crate trained ). If you're rough housing with my wife or kids he will grab your arm to let you know he's not going to let you harm them. 

He is very gentle with my 2 year old daughter Paislee, who climbs all over him, and my 3 year old boy Dylanger, who leads him all over the place by his collar. 
* * * * * * * * * * * * * * * *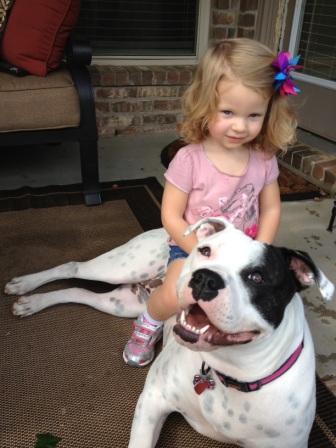 * * * * * * * * * * * * * * *
Dear Lem,
I can't thank you enough for the great experience that you gave me while working with you. I had every intention in the world to keep the puppy and surprise my family with him, but unfortunately the timing just wasn't right with my changing jobs. I only had the puppy 24 hours and I felt horrible about having to give him back not only because I was already so attached but because I felt like I wasted your time. The day I took him back to you I knew that if I could not keep him I had to give him back to you because you are the only person I would have trusted to find him a good home, but at the same time I felt like you should have kept all of the money for the pup. At least half of the money for your time and effort that you put in dealing with me, so I left it up to you. When I received the refund I was shocked about your decision on giving me a full refund because there aren't many people in this world that would have done that. I gotta tell you Lem, you're a great person and a man of great integrity. I am also 100% sure that your entire family is the same way. Getting a chance to meet you, see what you, your family and your kennel are all about has been and incredible experience and I will forever speak on the highest level about you guys. I will recommend family, friends and anyone that reads this that there is no better person or kennel to do business with than Lem Miller at JOSHUA KENNELS! I also promise you that you have a customer for life in me and it won't be too long before I can come and get my Ol' Southern White American Bulldog. 
Thank you for everything Lem and may God always bless you, your family and your dogs!
Iggy Giambastiani
Below is a pic of the same pup all grown up...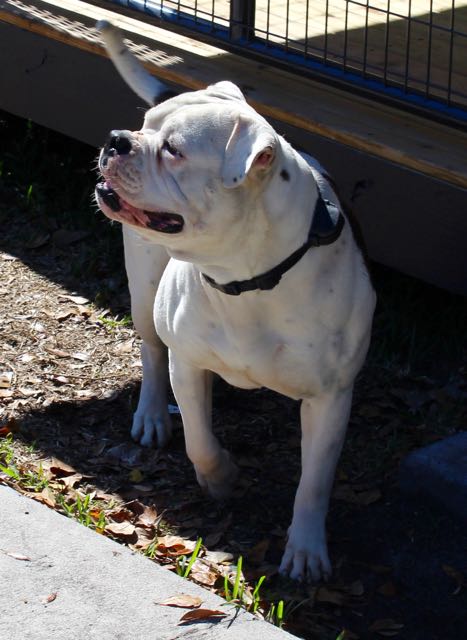 Now owned by Kim Shatto and family



* * * * * * * * * * * * * * *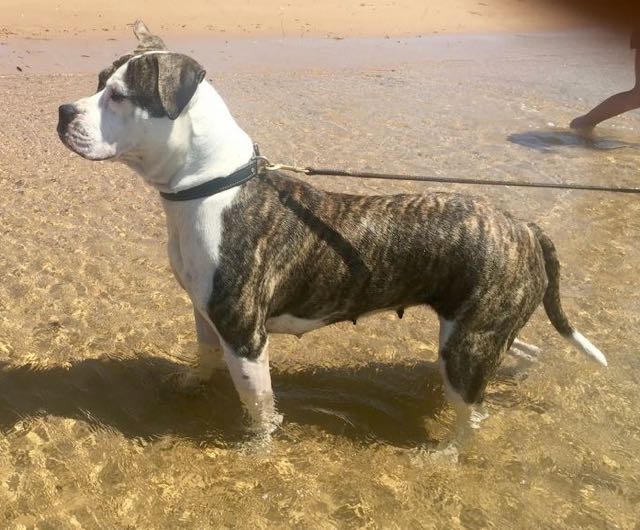 Hi Lem its Ray McDonald from Australia, thank you, we are very very happy with our bitch in temperament and conformation, here she is at 12 months of age on holidays with us at the beach, thank you for all your help, regards Ray McDonald.

* * * * * * * * * * * * * * *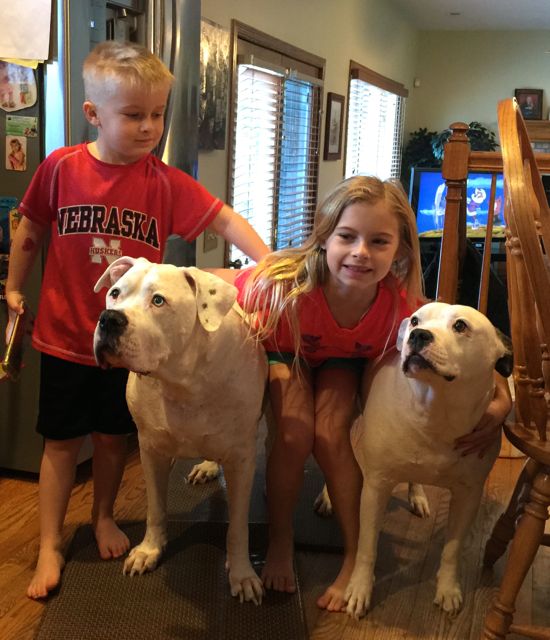 Lem, these are our Bulldogs that we have been so lucky to have from you. We lost Blue on the left on 2-6-15 he would've been 12 years old in April.  Buttercup is anxiously awaiting our new pup from Jabez/Lady Red. Kids are very excited to name their new puppy. Thanks Eric Knudtson
* * * * * * * * * * * * * * *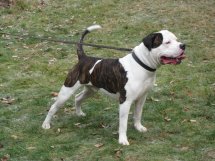 Hello Lem;   I wanted to send you some recent pictures of Bode (son of Joshua's Benjamite Warrior/Joshua's Zamar). He's 5 1/2years old, 110lbs, and is a outstanding companion.  It still makes me proud every time I see his picture on your web site. It's hard to believe its been over 5 years since we drove down from Phila. to get him.  I would love to get a puppy out of him (along with a lot of other people who meet him) but I have yet to find a worthy female.  Thanks again for breeding such a wonderful dog.  
 * * * * * * * * * * * * * * *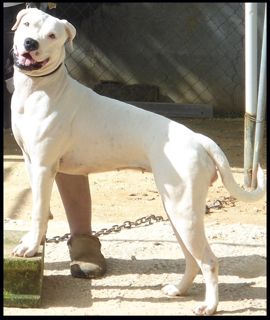 owned by Jose R Gonzalez Cruz
Hello Mr Miller, this a picture I took a while back, I just wanted to show you how of a quality breeder you are sir. If you draw a line straight down to ground it should fall just in front of the toes of the rear foot when the dog is just standing naturally ,some people don't recognize this but I do. For me and for my Vet who checks her, he said that Baby is a well balance Female , and her measurements are good from the hip to the stifle joint to the point of the hock. I'm so glad I got her from you sir, she is my quality foundation.  Also baby's hocks are strong and good; baby will get OFA when she turns two, in august of this year 2014. Even her front legs and shoulders are well balance. Baby's fore chest to the pin Bone are also well balance and this is how I want to breed. Sorry to bother you, if I didn't care I would never bother but, I care about the breed and my Joshua Bulldogs . God Bless, Jose
* * * * * * * * * * * * * * *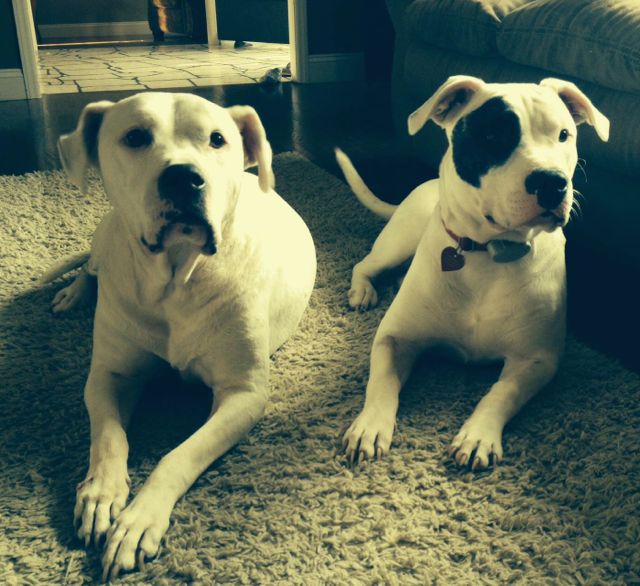 Just wanted to update you.  Here is a picture of our 2 Joshua Bulldogs!  The one on the left is Savannah (10 years old, out of Josh/Sheba Girl) and on the right is Gunnar (6 months old, out of Isaac/Addison Rose).  We can't imagine life without them and they are wonderful with our 5 kiddos!  Thank you for breeding such wonderful bulldogs; they have completed our family!
* * * * * * * * * * * * * * *
Merry Christmas to you and family!
From me and Little Miss aka Baby (Cash x Isaac March 2 2013)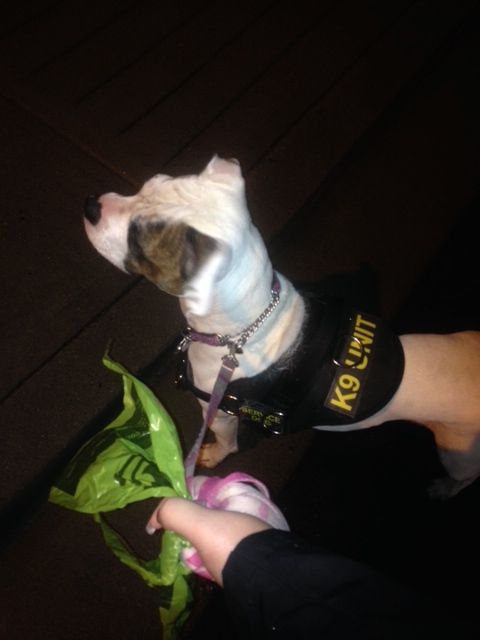 * * * * * * * * * * * * * * *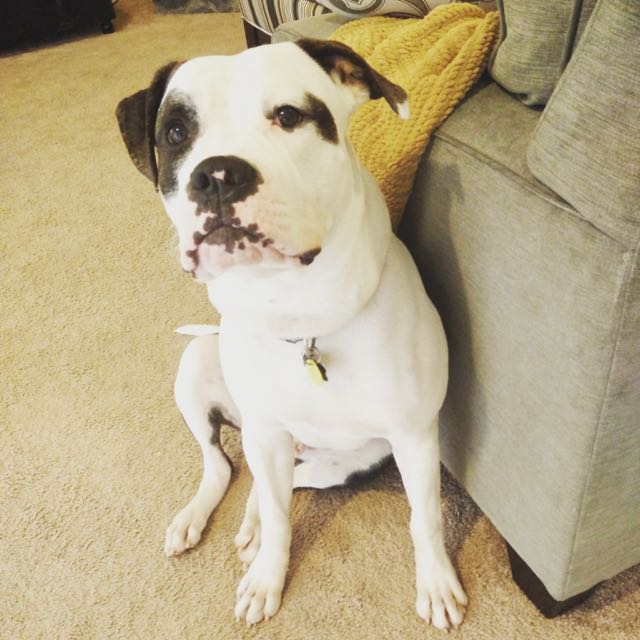 "Mac"
Mac saved me and his furry brother from getting seriously hurt today. On our morning walk, a stray German Shepherd attacked me, our other dog Tucker. But Mac immediately went into defensive mode and put himself between us and the aggressive dog. Honestly I think the dog would, at the very least, have mauled Tucker (a cockapoo) if it hadn't been for Mac. Fortunately Mac scared the dog away and we got away to safety...unhurt. He's not even nine months old!!! So grateful that Mac saved the day. He's definitely getting a lot of butt scratches tonight (his new favorite form of affection). ;)

Ashley King



* * * * * * * * * * * * * * *



Jason, Kimberly & the LaBarbera Family
Rex, out of Nat'l CH. Joshua's Ol' Southern White aka "Josh" and Sheba Girl, one of the greatest if not the greatest breeding pair of Bullogs in history. 
* * * * * * * * * * * * * * *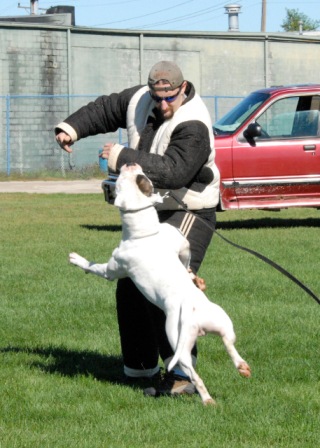 "Nico" out of Joshua's Bailey & Joshua's Tamar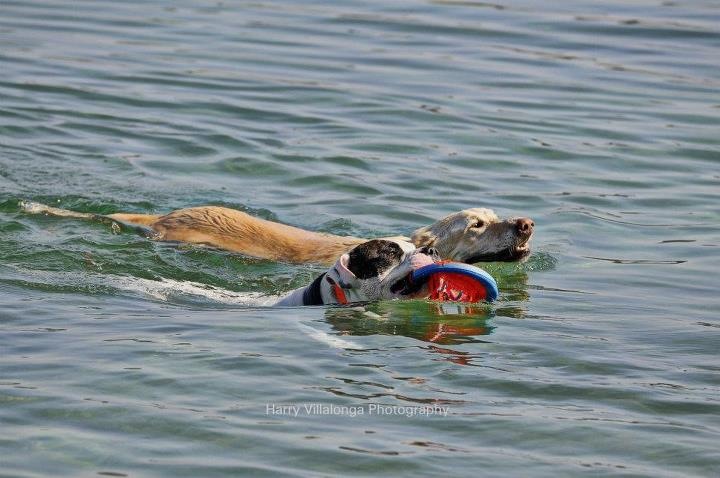 * * * * * * * * * * * * * * *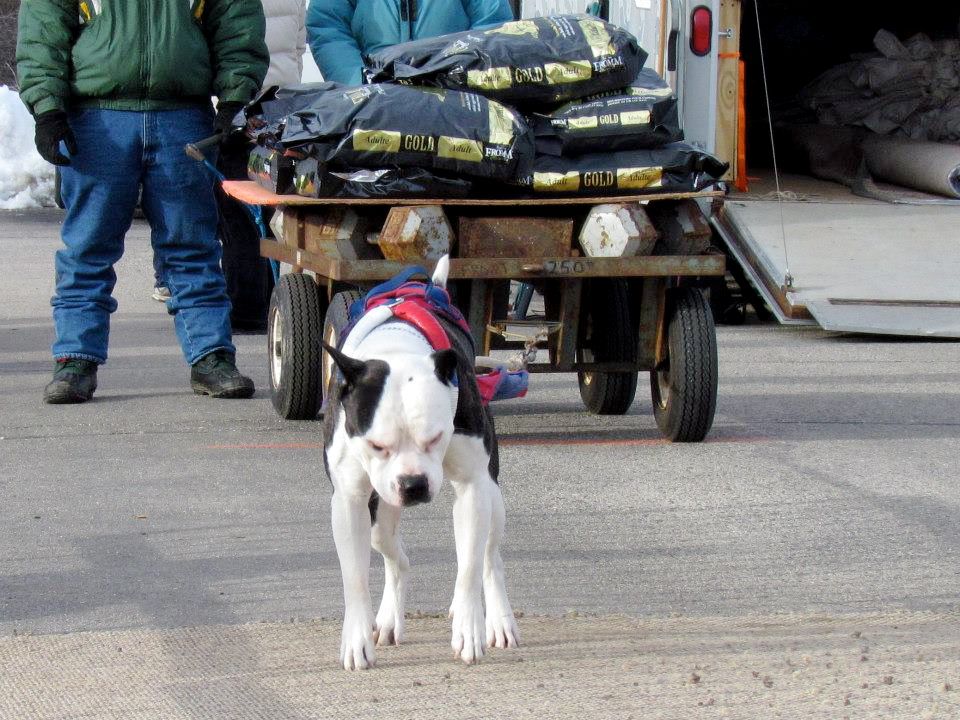 Haven't checked in for a while. First off congrats on the nkc nationals , looks like you cleaned up pretty well ! Abe is really coming into his own  these days in weight pull. Starting to dominate his weight class in the Midwest . He has also been beating  the heavier dog's as well and we have some serious pullers up here. Looking to really make some noise at APA world championships in November! May be looking for a nice gyp down the road to potentially breed him back to. Any thoughts you may have on that would be appreciated and welcome. Oh one more thought, Abe has become the house favorite of my wife and I both and he has some pretty stiff competition! Take care Lem,  and God bless!
* * * * * * * * * * * * * * *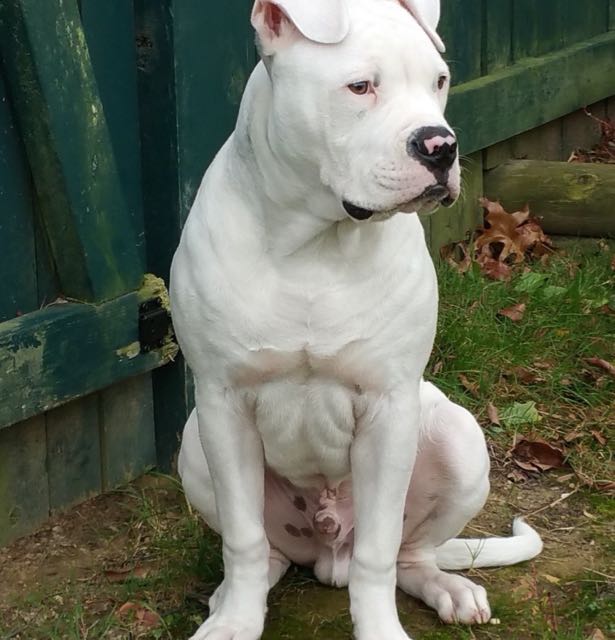 "Reuben"

Pastor Miller,
 
Attached is a picture of our boy "Reuben" at five months.  He is out of the Isaac/Maple Sugar litter of June 2015.  I won't bore you with a long and rambling gush over what a dog he is shaping into.
 
All I can say is "WOW."
 
Keep up the good work!
 
Sincerely,
 
George and Anita Helfrich



* * * * * * * * * * * * * * *




Nat'l CH. Joshua's Ol' Southern White/Joshua's Oz (2005)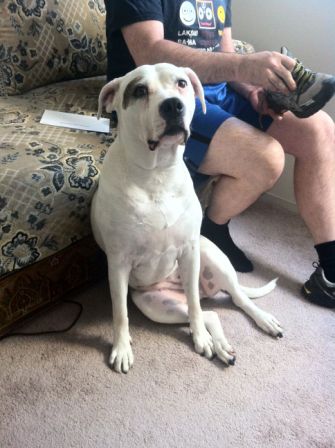 (pictured at 9 years old)
I get comments all the time. People frequently screech their tires and pull over to look at her and ask questions. She is a lover and nurturer, and very smart and agile. She protects our home and the babies in our family. She is the best dog I have ever known. Thank you from the bottom of my heart. Still doing well!
Valerie Nash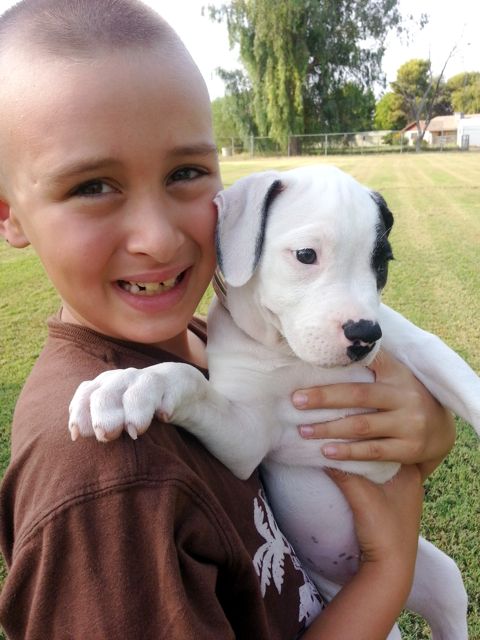 Hi Lem, Just a quick update on Stella's first week with us. She is the best behaved puppy we have ever had! She took her first trip to our vet, got chipped, updated on shots, and slept through the whole thing. She took her first trip to Flagstaff in Northern Arizona. Her confidence and social skills are amazing. She was exposed to a lot of kids and adults hands that wanted to handle her. She couldn't have shown a more perfect temperment. She loved the cool pines and would play hard, then find a cozy spot to sleep even harder. Though she is still accepting of her crate, she prefers our lab's kennel :) They quickly became best of friends. I couldn't believe that at 8 weeks she immediately took to the doggie door, the crate, the leash, and different social settings. What ever you have been doing at Joshua's for the last few decades... keep doing it! Haha! You are the best in the biz.  Sonia Jones
* * * * * * * * * * * * * * *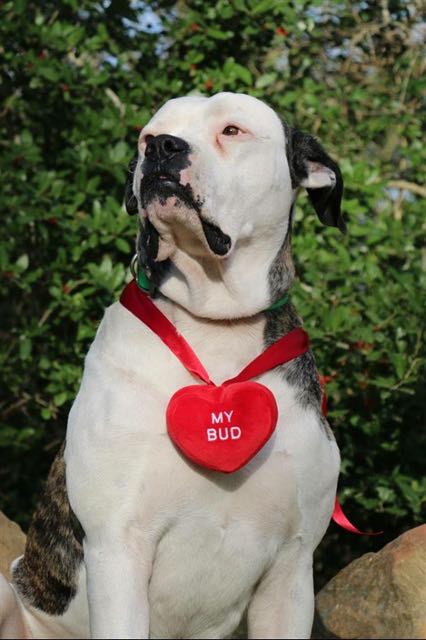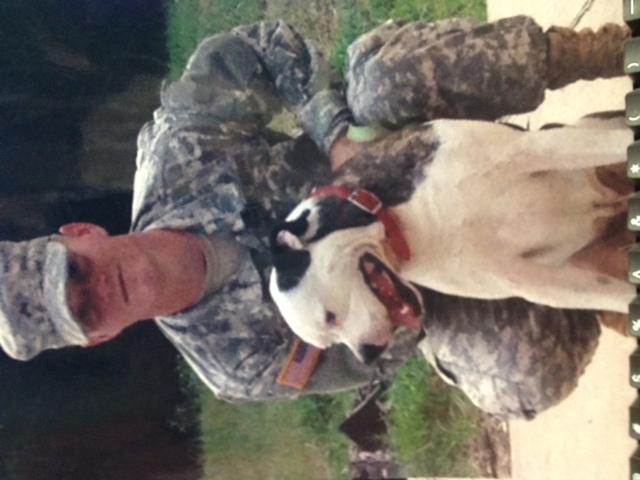 David Cassens serving our country and his bulldog Treu.Treu is out of Daddy and Ellie. Treu loves to ride the 4 wheeler and catch wild hogs. David is proud of his bulldog and we at Joshua Kennels are very proud of David.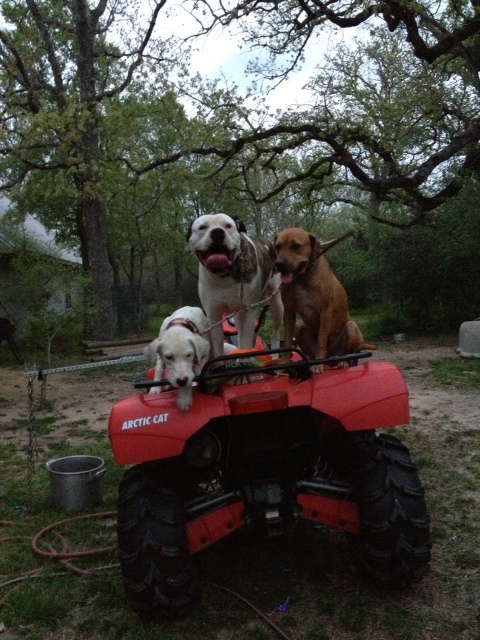 * * * * * * * * * * * * * * * * * * *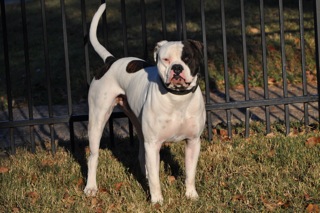 Diocese is out of CH. Joshua's White Bandits Love and Joshua's Benjamite Warrior. He is now the top stud of Archadian Kennels.
* * * * * * * * * * * * * * *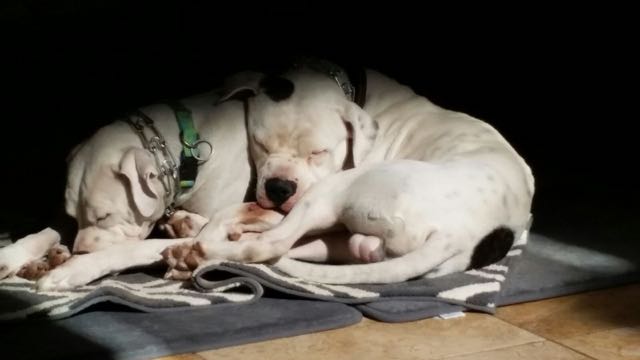 "Little Man and Snowy"
owned by another satisfied client...David Baba



* * * * * * * * * * * * * * *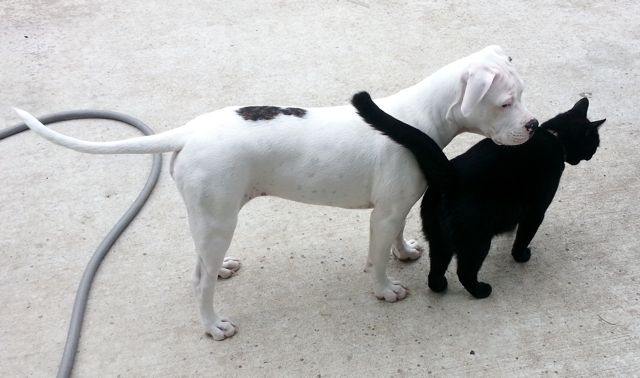 I think the female I got from you and Lynn a couple of months ago is a show quality girl. Everyone from the vet techs to people at the park can't get enough of her. Thank you very much she is a great American Bulldog.
I want to breed her in the future, so I will be needing a male puppy from you around this coming spring of 2014.  Please let me know if you have some advice for me.
I am willing to pay $1,500.00 for the pick male. These next two litters might be too soon and I might have to wait till your spring litter of 2014. Hopefully its an early spring litter.
* * * * * * * * * * * * * * *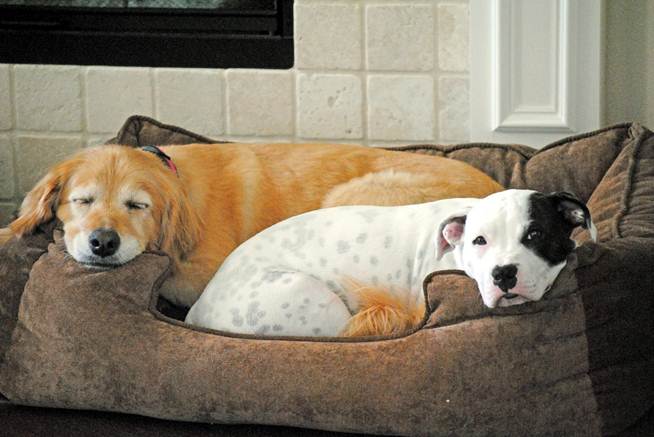 Lem, 
I figured you would enjoy some photos of our bulldog, Stella, we purchased from Joshua Kennels. Stella is best friends with our golden retriever, they literally start and stop their day with each other. She is a great watchdog, and is best friends with our 2 year old little girl, Kinsley. Kinsley and Stella will often go into the other room with each other, and  Kinsley will be coloring at her table with Stella is just hanging out watching anything and everything that comes into the room. 
We are grateful for the bulldogs you produce; ours truly is a family friend!
Blessings
-Jason, Gena & Kinsley Burrow
* * * * * * * * * * * * * * *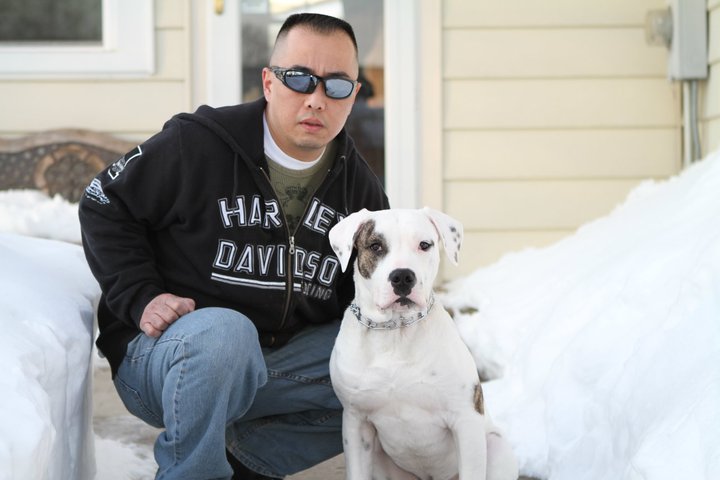 Attached is a photo of Buster (Ben and Rose pup) and me. He is now 7 months old and weighs 60 lbs. He has been a great companion. I thought that since he was coming from Georgia , that he would hate the snow. Him and my brother's dog can't get enough of it. I want to thank you again for allowing us to obtain these beautiful dogs from your kennel. We sent our dogs through training and the trainers said they were great. I start protection training with Buster next month. I will definitely keep you updated.
Take care and God bless.
Detective Ronald S. Bongat #413
Investigations Unit
Oak Park Police Department
Oak Park, IL 60302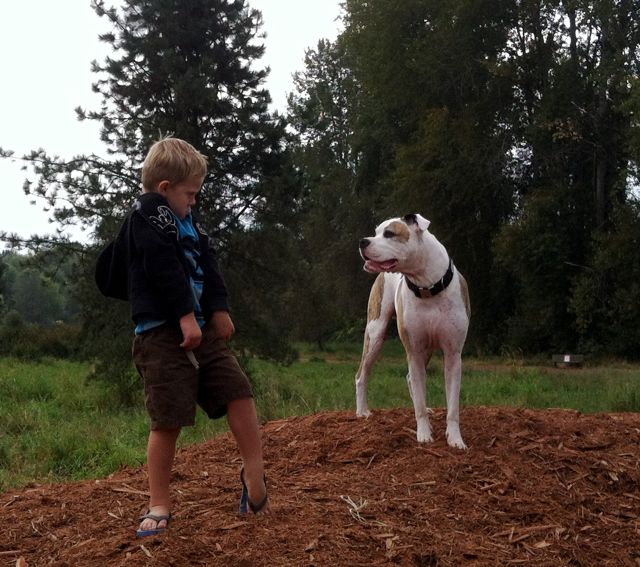 out of National CH. "Josh" and "Devon"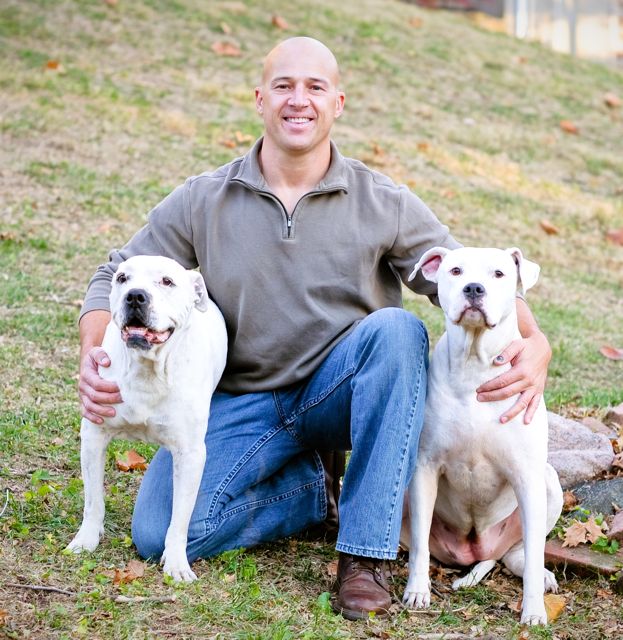 Savannah (10 years) on the left with Greg and Dixie (14 years) on right. Lem, recently Dixie passed and Savannah is lonely and we would love to give her a playmate.  Savannah is such a blessing to our family. We look forward to receiving another great Joshua Bulldog!
* * * * * * * * * * * * * * *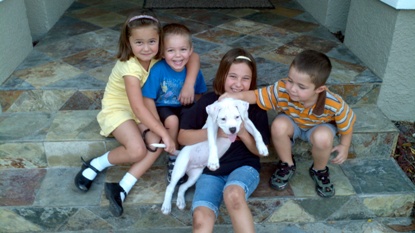 Lemuel,
I wanted to take a quick moment to thank you. Cooper has been such a blessing to our family. He's already 10 weeks old, and is full of life. I think the kids (and my husband) have had him in the pool more times than I can count. They love taking him in the yard and playing around with him, too. I'm not sure how we got along without him. We forgot how nice having a dog greet you when come home as well as how curious a puppy can be. Thank you again for taking the time with us. Your cousin Lynn is just wonderful too. Hopefully we will make it up your way so you can see how sweet this pup really is.
* * * * * * * * * * * * * * *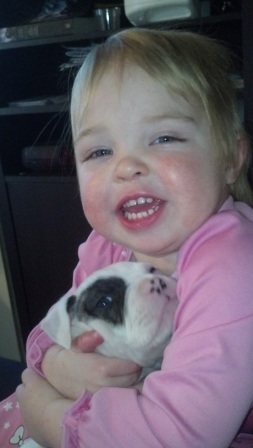 Brielle Anderson with "Gunny"
His flight back to Cedar Raphids was rough, we got delayed at every opportunity, which meant I never got him outside since my layover's were gone and we were supposed to be back by 5, we got off the plane in Iowa at 7-all due to the snow storm we had. Gunny's welcome to the North was a cold one. Lem, I ain't lying, he never whined one time in that bag from about 10:45 until I got him out in the van at 7:15. What temperament.
My girls LOVE Gunny, and he has already convinced my wife that he should be on the couch with us too! My mom and mother in law were blown away at how soft he is with our girls- total cuddle buddy.I know he isn't but 9 weeks but I can already see some of those traits that make this breed so awesome. He almost never whines, even at night in his kennel, when he does he needs to go out. Which seems to show some pretty quick smarts for a pup his age. He will play tug and get after it  good, nice growl, firm resistance and fight, but if he gets picked up he just relaxes. 
I forgot how much I love that bully mentality!
Everyone from the airport to friends visiting love this dog, one of the gentlemen I coach track with wants to get one for his next dog just seeing Gunny and reading your website. I can't claim a lot of knowledge in puppy evaluation, but this guy is going to be a great dog, makes me wish we had hogs to hunt up here. I'm already trying to find some folks through friends that have a farm-just to see him around one and how he acts. heck, makes me want to go into farming to just see him work.
Thanks for taking such pride and effort in your dogs sir. I plan on getting him OFA evaluated and keeping him on Prevention for his entire time with us.
Thanks again sir!  We feel very blessed to have found your kennel and gotten one of your pups. I attached some pictures with my daughters and wife, this is an American Bulldog Ol' Southern Couch Lover type! HA!
Coach George Anderson and Family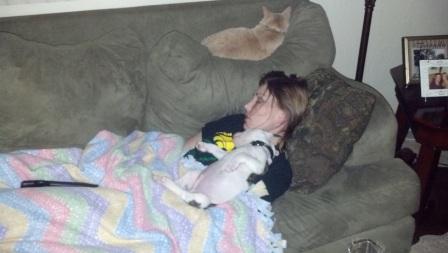 Stephanie Anderson and "Gunny"
* * * * * * * * * * * * * * *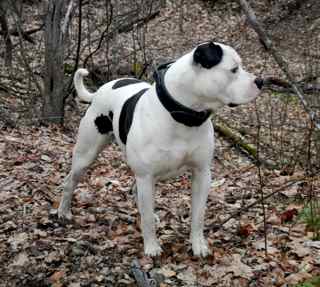 Thanks for a GREAT Bulldog! I'm thinking of getting him a pulling harness for a little muscle building (as if he needs it). Pictured at 17 months and owned by Scott Merriman, Scott says; "he is about the toughest dog on the planet. Brogan is out of Joshua's Benjamite Warrior/CH. Joshua's White Bandits Love.
Suzanne Cox with her Joshua Bulldog
Hi Lem,
We picked up a pup from you about 4 months ago.  I've attached a picture of him.  At 5.5 months old he was at 60 pounds and doing well. Thanks for your help!  Thanks for your time!
* * * * * * * * * * * * * * *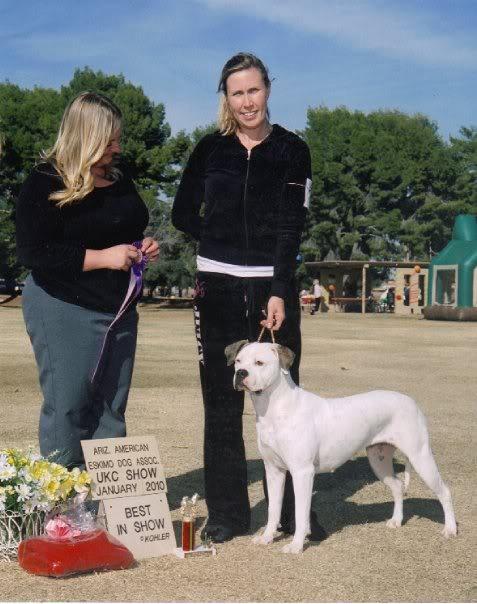 Joshua's Evangeline winning Best in Show. Owned by the Leland McClure family.
* * * * * * * * * * * * * * *
* * * * * * * * * * * * * * *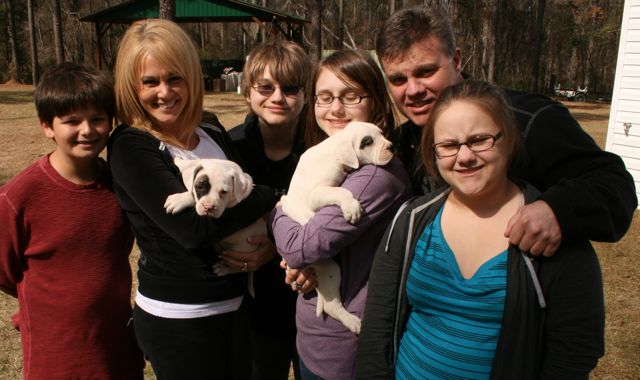 Dr. Tom Tolli family with their Joshua Bulldogs
* * * * * * * * * * * * * * *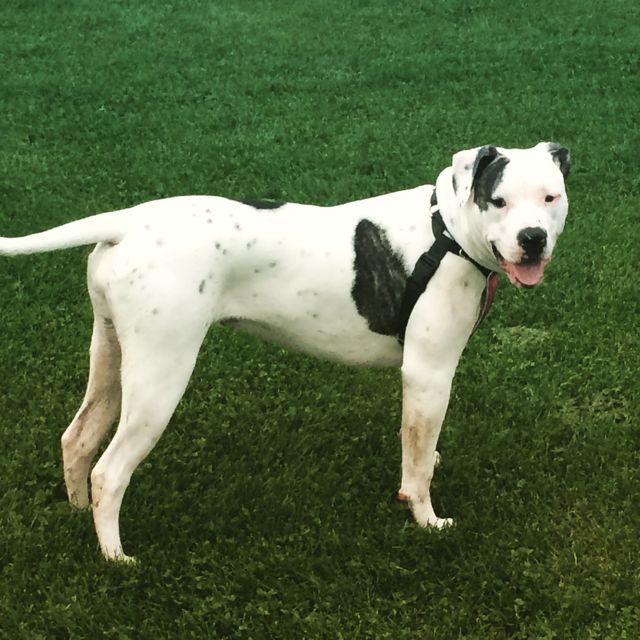 Here is Dixie at 7 months. 71lbs. She's a sweetheart. We wanted to wish you all a very Merry Christmas.
* * * * * * * * * * * * * * *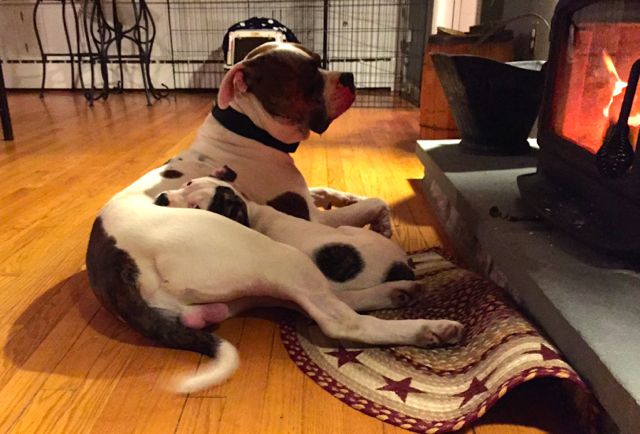 Eryka Isenburg Joshua Bulldog!
* * * * * * * * * * * * * * *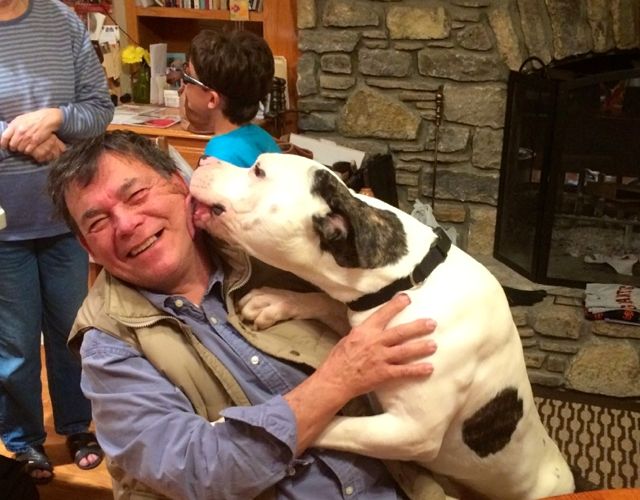 Joseph DeLemos and his Joshua Bulldog
Joshua Bulldogs are second to none. These are the animals of legend. Sets a bar for the breed.
She is smarter than you can believe she would do anything I have asked her today I have trained her myself and she is a wonderful dog we would not take $1 million for her.
Great breeding program! Temperament is awesome! Communication was great!
Joshua Kennels is more than just a place to get a puppy, you will gain a friend who will help you with any questions or concerns and provide you with a healthy well adjusted puppy. I love my Moses.
We are so happy with our bulldog. He is so well tempered and sweet. I want another one!!
 We had a wonderful experience beginning from the inquiry to actually bringing home our beautiful pup. Top knotch folks, dogs, and place. Thank you to Pastor Miller and family.
Lem is a great Breeder and guy to talk too. I'm on my second American Bulldog puppy Axl who is 8 months old. My first American Bulldog puppy Diesel died last November at 11 years old, best dogs ever.Thank you!
Ty Bordenet
I feel fortunate to have met such a great breader. I am more fortunate to have such a great fog for a buddy!
There's dog's then there's DAWGS, these are some DAWGS. If you want a bulldog, stop shopping and talk with
Pastor Lem.
Lem Miller/ Joshua Kennels is the #1 American Bulldog breeder in the world.
Awesome Bulldogs from an awesome breeder!
Mr Miller answers any question you may have. Our pup Uta is well mannered, respectful and has an amazing temperament which is from breeding, not just training. I'm looking forward to buying my husband and pup next year. Thank you Mr Miller!
These are a few of the clients we have enjoyed in the last 50+ years of breeding!
We have MANY MORE SATISFIED CUSTOMERS!  
For a list of more references contact us!